Devotees throng temples to make merit
By LIM CHIA YING, The Star, November 12, 2005
Subang Jaya, Selangor (Malaysia) -- Kathina Day is one of the most auspicious and significant occasions in the Theravada Buddhist calendar. On this day, devotees will congregate at the temples (also known as Vihara) bearing robes and other items to be offered to the monks.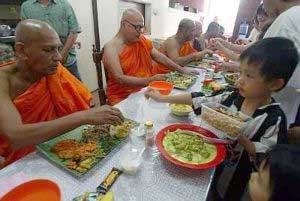 << A young devotee offering food to monks at the Buddhist Maha Vihara in Brickfields after the offering of robes.
Lord Buddha once said the Kathina offering ceremony was one of the highest meritorious deeds that devotees could perform. According to his teachings, this practice of offering robes helps reduce selfishness and cravings and encourages generosity (dana) in the devotees.
And, giving generously, without being tainted by craving and pride, is a condition for the attainment of the highest spiritual goal - Nibbana, or the cessation of all sufferings.
"A temple can only hold the Kathina Day once a year. It is held after the Sangha community (a group of more than four monks together) has completed its observance of the rainy retreat (vassa).
"The rainy retreat is observed for three months, usually from July to September, during which the rainy period falls. Monks are expected to stay permanently in one Vihara to practise self-reflection and mental cultivation.
"We can go out to perform prayers, but must be back in the temple within seven days. Otherwise, we cannot be considered as observing the retreat," said Reverend Suchinnn of the Buddhist Maha Vihara in Brickfields.
According to him, the Kathina ceremony dates back more than 2,500 years to Buddha's time.
"Monks in those early days were poor and often did not have enough robes to clothe themselves, so they collected cloth from cemeteries as well as other unwanted material to make the robes.
"Buddha saw their plight and hence allowed for a day for people to donate cloth to these monks. The practice continues to this day, but the majority of people now offer ready-made robes, although there are still some devotees who offer cloth and sew it afterwards for the monks on Kathina Day itself.
"As for the rainy retreat, it is meant for monks not to go here and there. This time is to also to enable more people to receive merit and gain spirituality as the monks would preach and meditate in the Vihara," said Revd Suchinnn, who hails from Sri Lanka.
He said the ceremony was held on a grander scale back in his home country.
"In Sri Lanka, people would go around villages at about 3am or 4am, holding the robes for the villagers to touch the cloth and get blessings. By dawn, the devotees would have to be the temple to offer the cloth to the monks."
Deputy chief monk Reverend K. Dhamma Ratana said during Buddha's time, monks had to walk for miles after heavy rains to pay their respects. It was during this time that worms would start coming out from the ground and the monks tended to step on them.
"Therefore, Buddha set aside three months for monks to observe the retreat.
"On Kathina Day itself, there's a special Kathina robe (called Kathina Cheevera) which is offered to the most suitable monk who has observed vassa. The monk must then take it along everywhere with him for three months.
"The seniority of monks is not based on age, but on how many vassa he has observed," said Revd Dhamma Ratana.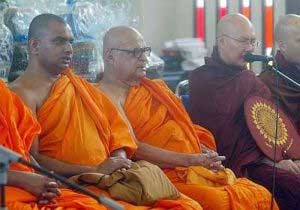 A typical Kathina Day, he said, would start with a procession, followed by offerings by devotees, prayers, sharing of merits with chief monk Venerable Dr K. Sri Dhammananda, and then vegetarian lunch prepared by volunteers.
Blessing service would be conducted in the evening and monks would then gather at the Sima Malaka hall to decide on whom the Kathina Cheevera should be given.
THE Kathina procession is usually held on Kathina eve, according to Subang Jaya Buddhist Association's Reverend U Nyanaramsi.
"A temple can choose any day within one month of the end of vassa to have its Kathina ceremony.
"Devotees should give their offerings out of faith and confidence, and monks should never ask devotees to offer them robes.
"Before giving, the devotee should feel glad at heart; in giving, the devotee's heart should feel satisfied; and the heart should be uplifted once the dana has been performed," said Revd U Nyanaramsi, who has observed more than 11 vassa.
The recent Kathina Day at the Subang Jaya Buddhist Association began with the taking of precepts, which touch on the five moral conducts in Buddhism, before the Sangha.
Devotees then gave their offerings - while some gave robes, others donated hampers containing necessities, like toothpaste, to the monks. The offerings were made in batches, with each batch encompassing 25 devotees who knelt down in a line before the 25 seated monks to whom they made the offerings.
It is during this time monks also cultivate closer relationship with fellow devotees.
Devotee Koay Teng Sin, who teaches Sunday classes at the association and goes to the Brickfields Buddhist Maha Vihara on Fridays to enrich his understanding of Buddhism, said his teacher, chief reverend Venerable Dr. K. Sri Dhammananda, had taught him that making offerings once in a lifetime was sufficient.
"Monks need only four types of offerings: robes, food, shelter and medical aid. Robes are basically to protect them from the weather and insects.
"It may be holy making these offerings, but people must understand that the most important thing is to continuously uphold and practise the Buddhist teachings," said Koay, who took his wife and six-year-old son to the ceremony.