A taste of life in the monastery
By LIM CHIA YING, The Star, December 10, 2005
Kuala Lumpur, Malaysia -- A GROUP of children aged between eight and 14 years had their first taste of monastery life recently when they participated in the Buddhist Novitiate programme organised by Ti-Ratana Buddhist Society.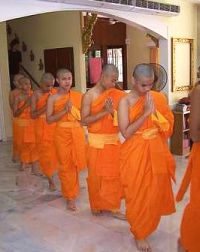 << The young monks coming out in their saffron robes to pay their respects to the monks.
The ceremony, held at Ti-Ratana Buddhist Centre in Taman Wawasan, Puchong (Malaysia), saw 20 boys and three girls arriving one early Sunday morning to prepare themselves for their week-long stay in the monastery.
According to deputy chief monk of Buddhist Maha Vihara in Brickfields, Rev Dhamma Ratana, the programme is being held for the first time for children of that age group.
He said the objective was to help instil moral values in children and teach them about respect for parents. "Throughout the one week, the children will be completely 'detached' from the outside world. No television, movies and computer games.
"When there are no outside distractions, children can fully focus their minds on Buddhism teachings and practise wholeheartedly the religious way of life.
"Hopefully, when they return home, they will cultivate better manners and behaviour, and grow up to become good adults," added Rev Ratana.
While the boys had their hair shaved, the girls were spared.
"Shaving of hair is done because we regard keeping of hair as dirty. As monks, this is to also simplify our lives," he said. About nine senior monks from Malacca and Singapore attended last week's novitiate programme.
After the hair was shaved, the ordination service followed. This is where children pay respect to the monks before going up to their parents to receive the robes they will wear for the rest of the week.
A typical day's activity, said Rev Ratana, would be waking up at 5.30am to attend renewal of precepts and chanting, followed by meditation and cleaning of the temple.
After breakfast is the dhamma session. "Dhamma talks are held on certain days. On other days, the children will attend presentations that chronicle Buddha's life."
In the mornings, the children will also go around the temple collecting alms like rice from well-wishers and visitors. This, said Rev Ratana, was to make children understand the meaning of humbleness and to appreciate the food.
"During their stay, the children will also be taken to visit Buddhist temples in town.
"There are sessions where we let them speak on subjects that they have learned. They will also be tested and judged on their knowledge acquired so far.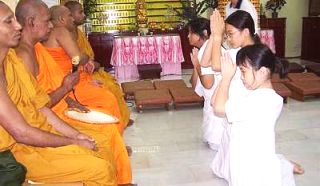 The three girls who are also >>
part of the programme paying their respects to the monks.
"Hopefully, they develop spiritually and understand better some aspects of monastic discipline," he added. The week-long programme culminated with a certificate presentation to the children and offering of vegetarian food (also known as dana offering) to the monks and novices.
Rev Ratana said Ti-Ratana Buddhist Centre was planning to hold the novitiate programme yearly.
"It is difficult to recruit locals to become monks because they are not able to renounce material possessions.
"Therefore, we hope that young children who have experienced the programme may see the path of monkhood in a different light and be of service to the Buddhist community."