Empowering Asian Buddhist women
The Star, January 18, 2006
Kuala Lumpur, Malaysia -- Having been held in eight Asian countries, the Sakyadhita International Conference, aimed at improving the lives of Buddhist women while developing their potential, will be held in Malaysia for the first time.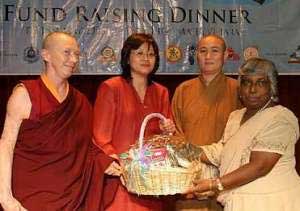 << Datin Paduka Chew Mei Fun flanked by Lekshe Tsomo (left) and Chang, receiving a token of appreciation from the fund-raising dinner organising chairperson Rupa Peyadasa.
In conjunction with this, Buddhist Maha Vihara and Malaysian Buddhist Association organised a dinner on Saturday at the Buddhist Maha Vihara Temple, Brickfields, Kuala Lumpur.
Funds raised from the dinner will be used to sponsor nuns and Buddhist laywomen from other Asian countries to the conference in June.
Women, Family and Community Development Ministry parliamentary secretary Datin Paduka Chew Mei Fun launched the dinner alongside Sakyadhita International Association of Buddhist Women president Venerable Karma Lekshe Tsomo and Venerable Chang Heng, chairman of the conference organising committee in Malaysia.
Sakyadhita is an international alliance of women founded in Bodhgaya, India, in 1987.
"There are an estimated 300 million Buddhist women worldwide, including 130,000 who are nuns. Many of these women live in poverty, without adequate opportunities for education or facilities for religious practice," said Chew.
"We recognise that this conference can empower women and they will ensure a dynamic nation in the near future," she added.
She said the Government had demonstrated strong commitment for women's advancement in every aspect, but women's security remained vulnerable to increasing gender-based violence like rape, snatch theft and domestic violence.
She called for smart partnerships between government agencies, society, media and non-governmental organisations to combat gender-based violence, and commended the organising committee for its efforts.
Lekshe Tsomo said it was unique that the conference would take place in a multi-cultural country.
"Here, we can bring people from different backgrounds together and establish a world of peace. This time around, we will discuss the roles of Buddhist women in a global multi-cultural community," she said.
Chang said the conference would be attended by delegates from 45 countries.
She said women play a crucial role in society because they were gentle, compassionate, meticulous, motherly and care for the less fortunate.
The 9th Sakyadhita International Conference on Buddhist Women will be held from June 17 to 21 at the Sau Seng Lum (Puchong) Exhibition Centre.
For enquiries, call 03-2274 1142/1, e-mail 9thsakyadhita@mvihara.po.my or visit www.sakyadhita.org.