International Conference on Buddhist women in Malaysia
By JADE CHAN, The Star, May 20, 2006
Kuala Lumpur, Malaysia -- SOME people have the perception that women are somehow not as capable or worthy as men. This attitude is held only by some men, but also by women themselves.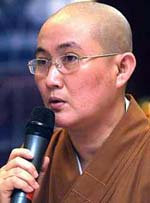 << Ven. Chang Heng ... 'the conference is open to the public, both women and men, of every nationality and religious background.'
"I would like to help women understand their tremendous potential," said Venerable Karma Lekshe Tsomo, University of San Diego Theology and Religious Studies assistant professor and Sakyadhita International Association of Buddhist Women president.
"There have been many remarkable women in Buddhist countries who started from zero and achieved great things. One example is Ven. Shig Hiu Wan, who founded the first Buddhist university in Taiwan."
The 9th Sakyadhita International Conference on Buddhist Women is one of the platforms organised by Sakyadhita for leading Buddhist scholars, practitioners and social activists from around the world to share experiences on issues of mutual interest, promote projects that help improve conditions for Buddhist women and foster gender equity.
Sakyadhita, which means "Daughters of the Buddha", is the world's leading international organisation of Buddhist women.
Themed "Buddhist Women in a Global Multicultural Community", the conference will be held from June 17 to 21 at Sau Seng Lum (Puchong) Exhibition Centre.
"It is open to the public, both women and men, of every nationality and religious background," said Malaysian Conference Planning Committee (MCPC) chairperson Ven. Chang Heng, at the event's press conference on Tuesday.
The event is held around the world once every two years. The Malaysian organisers for this conference are Buddhist Maha Vihara and Malay- sian Buddhist Association. The co-organisers are Buddhist Gem Fellowship, Buddhist Light Inter-national Association, Malaysia Chapter, Buddhist Missionary So- ciety Malaysia, Jetavana Monastery, Sau Seng Lum Buddhist Temple, Than Hsiang Temple, Vajrayana Buddhist Council of Malaysia and Young Buddhist Association of Malaysia. The venue sponsor is Sau Seng Lum (Puchong) Exhibition Centre.
There will be 45 international and local speakers at the conference, including Karma, Ven. Tenzin Palmo from England, Christie Yu-ling Chang from Taiwan, Tomomi Ito from Japan, Jampa Tsedroen from Germany and Dr Goh Pik Pin from Malaysia.
Most of the speakers will speak in English, and simultaneous translation in Mandarin and Korean will be provided.
Programmes include panel presentations, workshops, group discussions, cultural performances and meditation.
Registration fee to attend the full five-day conference is RM150 without accommodation or RM250 with accommodation. Participants can also choose to participate on selected days, priced at RM50 per day.
About 400 local and 200 foreign participants are expected to attend the conference, which is supported by the Tourism and Women, Family and Community Development Ministries.
For details, visit www.sakyadhita.org or call the MCPC Secretariat (c/o Buddhist Maha Vihara) at 03-2274 1142.