Buddhist icon Dhammananda dies at 87
By Oon Yeoh, News Today, Sept 1 2006
Kuala Lumpur, Malaysia -- Leading Buddhist leader, K Sri Dhammananda, died on Thursday in hospital after a long illness. He was 87.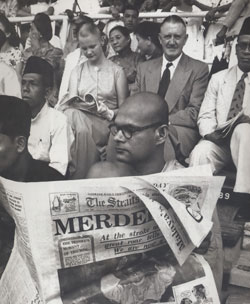 << Ven K Sri Dhammananda was there to witness Malaysia's declaration of independence on August 31, 1957
Dhammananda, who was popularly referred to as "Chief", had been critically ill for the past six weeks after suffering from a stroke.
Last week he was flown back to Kuala Lumpur after spending three weeks at the Mount Elizabeth Hospital in Singapore. He suffered a second stroke shortly after returning from Singapore and has been slipping in and out of consciousness since then.
A leading figure in the Buddhist community in Malaysia and Singapore, Dhammananda arrived in Malaysia in 1952 from Sri Lanka (then known as Ceylon) to help tend to the spiritual needs of the Singhalese community in Kuala Lumpur.
Shortly after his arrival he was summoned by the High Commissioner to Malaya Sir Gerald Templer who asked him to teach Buddhism among the Chinese communities in the New Villages set up by Templer to help check the spread of Communism.
Thus began his missionary work, lasting over half a century, which eventually spread throughout the whole of Malaysia and later, Singapore as well.
As recent as a few months ago, he was still giving his regular Friday evening religious talks, something he has done continuously since the 1950s.
Dhammananda is the Chief Monk of the famous Maha Vihara Temple in Kuala Lumpur and is technically the head of the Theravada denomination in Malaysia and Singapore.
In Buddhism there are two main denominations: Theravada and Mahayana.
Most Theravada Buddhist practitioners in these two countries are English-speaking because of Dhammananda's influence. He taught in English.
The other main branch of Buddhism in Malaysia and Singapore is the Mahayana school, whose devotees are mainly Chinese speaking and whose teachers are mainly from Taiwan.
"He's such a towering figure in the Buddhist community here that he's widely referred to as the 'Chief' by everyone regardless of which denomination they belong to," says Charlie Chia, 51, a veteran Buddhist teacher.
"In Malaysia, there is only one icon for Buddhism, and that's the Chief," says Lim Kooi Fong, founder of the Buddhist Channel, a non-denominational website. "Being that Malaysia is his adopted home, perhaps it's significant that he died on independence day."
The Buddhist Channel (www.buddhistchannel.tv) which will carry details of Dhammananda's funeral scheduled for Sunday.