40 foot pyre for the "Chief"
The Buddhist Channel, Sept 2, 2006
Kuala Lumpur, Malaysia -- Buddhists in this part of the world will witness for the first time the use of a pyre to cremate the body of the late Venerable Dr K Sri Dhammananda. The event is expected to be held at the Nirwana Memorial, Semenyih at 5 pm on Sunday, September 3, 2006.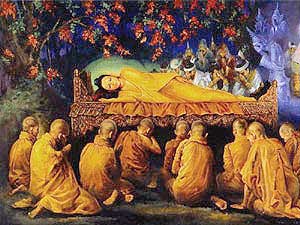 << The late Venerable Dr K Sri Dhammananda's funeral ceremony will be conducted steeped in Buddhist tradition, in the footsteps of the Buddha Himself
The construction of the 40 ft pyre (about 4 storeys high), the largest of its kind in Malaysia, will be sponsored by the Sri Lanka temple based in Sentul, Kuala Lumpur. According to the temple's Chief Monk Ven. Saranankara, the idea for the pyre was mooted as the late Chief Venerable was not a mere "ordinary person".
When asked why a pyre was chosen when the facility at the Nirwana Memorial has a state of the art crematorium, the Venerable said that not many people in Malaysia and this part of the world have actually seen the use of a pyre. "It is this very reason and the fact that the late Chief Venerable is held so highly by society, that this ancient method of cremation was selected," Venerable Saranankara adds.
Venerable Saranankara said that the ceremony will be steeped in Buddhist tradition, and will incorporate elements and procedures which was used at the Buddha's funeral when He attained Parinibbana.
The pyre is currently being constructed at an unspecified location. It will be built on a "completely knocked basis (CKD)" and will be re-assembled at the cremation site on Sunday.
Devottees can purchase sandal woods at RM 10/- a packet at the Buddhist Maha Vihara and place it around the pyre for the lighting up.
Apart from the pyre, a hearse will also be specially built to carry the casket from Buddhist Maha Vihara to Nirwana Memorial in Semenyih. Supervised by Ven. Ananda, the hearse is designed according to Sri Lankan tradition.
More info: What is a pyre?
A pyre is a structure, such as a mound of wood, for burning a body as part of a funeral rite. An early form of cremation, a body or bodies is placed upon the pyre and the pyre is set on fire. Pyres are uncommon in modern times and have been replaced by indoor cremation in a crematorium.