Farewell to the Chief
The Buddhist Channel, September 4, 2006
Lighting of 40 foot pyre "releases" Chief from this world
Kuala Lumpur, Malaysia -- The funeral for the late Dr. K Sri Dhammananda, who passed away last Thursday was carried out with solemn dignity at the Nirwana Memorial in Semenyih, Selangor today. The program was on schedule despite the thunderstorm and wet conditions. About 5,000 devotees attended the ceremony.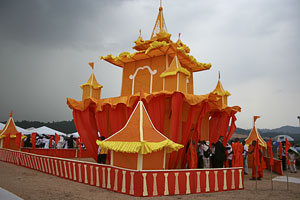 << The beautiful 40 ft pyre was designed and constructed with courtesy of the Sri Lanka temple of Sentul, Kuala Lumpur
The funeral procession arrived at the Nirwana Memorial at about 5 pm. Pall bearers made up of members from the Sasana Abhiwurdhi Wardhana Society and the Buddhist Missionary Society of Malaysia carried the casket from the hearse to the pedestal located opposite of the pyre.
In a ceremony steeped in Buddhist tradition, the late Chief's funeral started off the observance of the Five Precepts, which was administered by Ven. Dr. W Kusaladhamma Nayaka Maha Thero, Chancellor of Kelaniya University.
This was followed by the recitation of suttas by members of the Mahasangha. All three traditions – Mahayana, Vajrayana and Theravada were represented.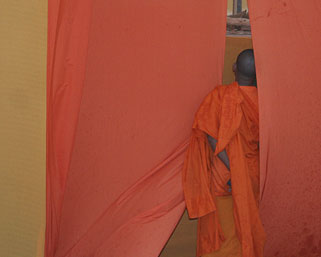 Last check before the litting of the pyre >>
Immediately after the recitation, the offering of "Matakavastra" (offering of robe materials) to members of the Mahasangha was administered by Ven. Dr Walpola Piyananda Maha Thero. The venerable then proceeded to deliver a Dharma talk.
The ceremony ended with the transference of merits and offering of Piriraka (robe and token) to members of the Mahasangha.
At about 6.15 pm, members of the Maha Sangha lifted the casket from the pedestal and carried it to the pyre. The pyre was a beautifully constructed 40 foot structure which was wrapped with orange and yellow cloth, symbolic colours of the Mahasangha robes.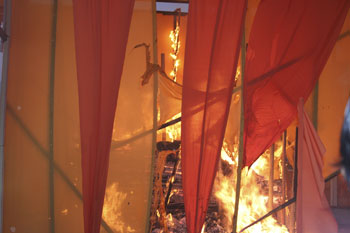 Fare ye well, dear Chief. May you
attain the bliss of Nibbana >>
Members of the Mahasangha then made clockwise circumbulation, walking around the pyre three times followed by VIP delegates.
Despite the wet conditions, the pyre was lit on time at about 6.30 pm by the respective representatives of Sasana Abhiwurdhi Wardhana Society, Mr A Hemadasa and Mr Ang Choo Hong, on behalf of the Buddhist Missionary Society of Malaysia. As the pyre was lit, a section of the crowd paid their respects by putting their palms together and in unison chanted the "Ti Ratana Vandana" (Homage to the Triple Gem) while others groups recited "Namo Amitabha" repeatedly in Chinese. By this time, the storm had subsided and a soft drizzle had gently settled in.
As the fire was burning, the 5,000 kg of jasmine wood placed inside the pyre released a fragrant aroma which permeated the surrounding area.
The ceremony concluded with hymn singing, conducted by the Wayfarers, iGemz and MOD choirs.