Dhammananda's Death Great Loss To Buddhism, Says Sri Lanka's President
Bernama, September 3, 2006
KUALA LUMPUR, Malaysia -- Sri Lankan President Mahinda Rajapaksa says the death of Chief High Priest of Malaysia and Singapore, Venerable Dr K. Sri Dhammananda Nayake Maha Thera, as a great loss not only for Sri Lankans and Malaysians but to the Buddhists throughout the world.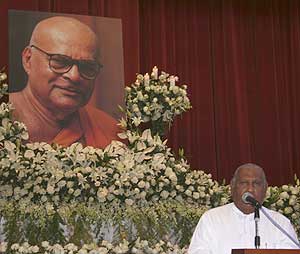 << Sri Lanka's Prime Minister Ratnasiri Wickramanayake delivering the eulogy from President Mahinda Rajapakse
Rajapaksa said: "He had devoted his entire life to Buddhism that gained him a deep understanding about Buddha's teachings which throughout his life translated them into 70 publications."
"And most of his books have been translated into 16 different languages to reach devotees of different nationalities, the languages include Russian, Mandarin and others," he said.
Dhammananda had shown the spiritual strength given his undivided vocation in promoting Buddhism around the world, he said in his speech read out by his Prime Minister Ratnasiri Wickramanayake at the eulogy and last rites ceremony at Asoka Hall of the Buddhist Maha Vihara in Brickfields here Sunday before the burial of the 87-year-old Dhammananda.
Dhammananda died of cancer at the Subang Jaya Medical Centre on Thursday.
On religious tolerance, he said Dhammananda "is the Thus". He is the current President of the Malaysian Consultative Council for Buddhism, Christianity, Hinduism and Sikhism.
Earlier, Housing and Local Government Minister Datuk Seri Ong Ka Ting, who represented the Malaysian Government, said during his entire life, Dhammananda through his teachings had promoted peace and harmony among the people regardless of their religions and beliefs.
He also said Dhammananda was the main driving force for promoting understanding on Buddhism in Malaysia and Singapore as well as throughout the world.
"He may have gone now but his teachings will guide us through our life," said Ong, adding that Dhammananda had contributed significantly for the well-being of this country.
Born on March 18, 1919 in Kirinde, Matara, in southern Sri Lanka, Dhammananda was sent to Malaysia in 1952 to serve as the resident monk for the Sinhalese Buddhist community.
Meanwhile, Malaysia Buddhist Association President Sik Jit Heng said three months before his death, Dhammananda managed to write his last book on "Where Is Buddha".
"Two days ago, we managed to print about 15,000 copies of the book which will be distributed free to the devotees," he said.
After the three-hour eulogy and last rites ceremony, Dhammananda's body was taken for cremation at the Nirvana Memorial Park in Semenyih.
About 10,000 devotees flocked to the vihara to pay their last respects to the religious leader.