Loving monk
By MAJORIE CHIEW, The Star, September 6, 2006
Kuala Lumpur, Malaysia -- Death is no cause for sorrow, but it would be sorrow if one dies without having done something for oneself and for the world. – Chief Reverend Venerable Dr K. Sri Dhammananda, Food for The Thinking Mind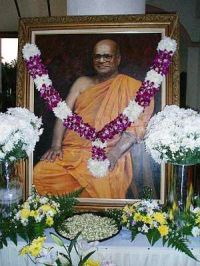 <<Chief Reverend Venerable Dr K. Sri Dhammananda
March 18, 1919 – Aug 31, 2006
Nineteen years ago, my daughter was fortunate to get the blessing from the chief monk of the Buddhist Maha Vihara in Brickfields, Kuala Lumpur, during her full moon celebration. That was the first time I met Chief Reverend Ven Dr K. Sri Dhammananda. Over the years, I met Chief Reverend a few times. I always left in awe.
Sadly on Merdeka Day, I returned with husband and daughter to pay our last respects to Chief Reverend. Pieces of saffron cloth were hung across the road at the entrance to symbolise the passing of a monk. But a good omen was perhaps beautiful rainbow before twilight that arched across the evening sky.
At his funeral at the Nirvana Memorial Park in Semenyih on Sunday (Sept 3), we joined thousands of devotees for Chief Reverend's funeral, the biggest in the history of Buddhist Maha Vihara. Some 500 monks from the Maha Sangha came from 11 countries – Sri Lanka, Japan, the United States, Canada, Taiwan, Australia, Thailand, Vietnam, Singapore and Malaysia.
Devotees braved the rain, which started at about 5.15pm. Exactly an hour later, the heavy downpour relented when it was time to light the funeral pyre of sandalwood.
The casket was set inside a 30-foot high replica of a stupa made of yellow cloth and supported by wood structures made by some 25 Sri Lankan monks. The open pyre cremation of Chief Reverend made history as the first of its kind in Nirvana Memorial Park, said Rev. K. Dhammaratana, 55, deputy chief monk of Buddhist Maha Vihara.
For whilst the nation observed Merdeka Day, the Buddhist community also mourned the loss of a great leader – the Chief High Priest of Malaysia and Singapore, Venerable Dr K. Sri Dhammananda, 87. He passed away on Aug 31 at 11.32am, surrounded by monks and devotees at Subang Jaya Medical Centre in Petaling Jaya.
"The Chief Reverend is a living Buddha. He has contributed immensely not just to Malaysians but to the whole world. He had preached (the Dhamma) to both young and old with his simple language and was a prolific writer," said Rev Dhammaratana of Chief Reverend, his uncle.
"We hope that he will come back to us (through rebirth) and continue his great work. Our hearts are always with him."
Confined to a wheelchair, Chief Reverend insisted on giving his last sermon on July 10 at his temple, the Buddhist Maha Vihara in Brickfields, Kuala Lumpur, where he was chief monk.
"The sermon meant so much to him because it was not just on a full moon's day but it coincided with Buddha's first sermon to his first five disciples," said Rev Dhammaratana. The next day, he had to be admitted to hospital.
From then, Chief Reverend was ill for over six weeks following a second mild stroke. He sought treatment in private hospitals in Malaysia and Singapore. On Aug 21, he was readmitted to a private hospital in Subang Jaya upon his return from Singapore. After a week, his health deteriorated further.
Chief Reverend was also an animal lover and kept a dog, Lucky, and two cats.
"His dog was very protective of him. Even his cats used to give him massages. They must have observed the masseurs attending to the Chief Reverend and learnt some tricks," said Rev Dhammaratana.
What was Chief Reverend like? Here's what some people who have known him have to say:
Mother A. Mangalam, 80, president of the Pure Life Society in Puchong, Kuala Lumpur, said:
"Rev Dhammananda's death is a great loss to the Inter-Faith Spiritual Fellowship (INSaF). He's a person who, though Buddhist by faith, rises above all religions and cuts across all barriers."
Rev Dhammananda also had "wit and humour and always has a smile, no matter what."
Sasana Abhiwurdhi Wardhana Society of Buddhist Maha Vihara president S.W. Surendre said the vihara's chief monk was "a very dynamic and very compassionate person. He is an irreplaceable loss for a monk of his stature. When he came to reside at the Buddhist Maha Vihara, it was a stepping stone for this temple to go higher. Every Malaysian Buddhist considers the Buddhist Maha Vihara as the main centre of Buddhism in the country."
Ti-Ratana Welfare Society president Datuk Liu Thim Soon was touched and blessed by the Chief Reverend for the last 25 years. "Chief was full of energy whenever he preached and always had a set of jokes."
At the eulogy ceremony on Sunday, Ven Dr Kakapalliye Anuruddha, former Vice-Chancellor of Sri Lanka University, said: "It's a sad day for Sri Lankan monks because one of their illustrious Sri Lankan monks had passed away." The Chief Reverend or Nayaka Hamuduruwo (an equal meaning term used in Sri Lanka) did not just explain Buddha's teachings but practised what he told others.
Housing and Local Government Minister Datuk Seri Ong Ka Ting, who represented the government, said that Chief Reverend was a very powerful voice in promoting inter-religious harmony in Malaysia.
Sri Lankan Prime Minister Ratnasiri Wickremanayake, who read a message from the President of Sri Lanka, said: "Sri Lanka had lost a great monk. The Buddhist world had lost a great missionary."
The eulogy of Buddhist Summit president Most Venerable Dr Kyuse Enshinjoh was read by Buddhist Summit of Japan secretary-general Venerable Fujikura of Japan, who described Chief Reverend as "a great dhamma friend and a true Supreme Buddhist".
Rev Dhammananda was involved in Buddhist missionary work for 54 years. He was born in Sri Lanka on March 18, 1919. When he was 12, he was ordained as a novice monk and given the name Dhammananda meaning "Bliss of the Dhamma" as well as the first name Kirinde after his village.
At 26, he graduated from the Vidyalankara Pirivena College in Colombo with a Diploma in Pali and Sanskrit, Buddhist philosophy and the Pali Cannon. He continued post-graduate studies at the Benares Hindu University in North India for four years and graduated with a Masters degree in Indian Philosophy in 1949.
In 1952, he was invited to Malaya to reside at the Buddhist Vihara in Brickfields, Kuala Lumpur to teach Buddhism. In 1962, he established the Buddhist Missionary Society (BMS) for a more organised missionary work in the country. Under BMS, he wrote many booklets and books on Buddhist teachings. To-date, he had written 70 books, which have been translated into no less than 16 languages worldwide.
In 1965, Rev Dhammananda was appointed the Chief High Priest of Malaysia and Singapore.
Buddhist Missionary Society Malaysia (BMSM) president Ang Choo Hong said: "The Chief Reverend wrote his last book at his sick bed. And on the day of his funeral, 60,000 copies of the book, Where is the Buddha? were published for free distribution as his last legacy.