A New Journey with Meditation at Clove&Clive
by Chuah Ai Jou, The Buddhist Channel, Sept 25, 2006
Petaling Jaya, Malaysia – September 25, 2006 sees the birth of a new meditation centre, Clove&Clive in Kelana Jaya, a commercial suburb of Petaling Jaya.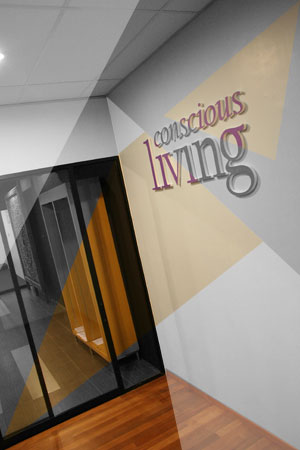 Established with the aim of bringing about more spiritual awakening in people, Clove&Clive offers meditation programmes on mindfulness and love with a practical and contemporary approach. The centre opens its doors to anyone who is spiritually-inclined and geared towards self-development for a better understanding of their mind and spirit.
It is also perhaps one of the few rare centres which offer meditation courses that are non-religious and are open to participants irrespective of race and religion.
The centre's name, Clove&Clive, was derived from the themes on which the courses are centered on: conscious loving (Clove) and conscious living (Clive).
The founders, husband-and-wife pair Hor Tuck Loon and Chan Lai Fun, has more than 30 year of combined experience in the field of meditation as facilitators, coach, guide, learner, speaker and organizer. All of these roles have been significant in their journey to touch, move and inspire others.
"Through more than two decades of learning with good teachers and our own journey in meditation, Lai Fun and I have taught and shared with many like-minded people. The inward transformation they have undergone and the way they look at life anew tells us that there is a greater urgency to reach out," shares Tuck Loon.
Tuck Loon, a graphic designer by training, and Lai Fun, an IT consultant with a multinational oil and gas corporation for 9 years, quit their day jobs a few years ago to engage full-time into teaching meditation.
They are joined by Choy Boon Ling, a corporate trainer with 14 years of experience, who passionately shares their belief of helping others grow positively into a leading life with more love and wisdom.
At the centre, the three will facilitate courses which offer a contemporary approach to meditation, using mindfulness and loving-kindness as tools to guide participants into understanding the mechanics of the mind and transforming their perspectives on every aspect of their lives, from work to relationships.
Programmes at Clove&Clive are designed for the different levels of the beginner, intermediate and experienced practitioner. There are follow up courses available for every level, serving to encourage a continuous practice of meditation which will result in a natural progression of making it a way of life.
Besides weekly sessions, practice retreats will also be conducted over the weekend. Classes are kept small to provide more individual attention and facilitate close sharing of experience and feedback with the facilitators and one another.
Clove&Clive was set up with the immense moral and financial support from the trusted friends of the founders. In its initial stage, the courses are heavily subsidized and range from a nominal fee of RM160 to RM290 per course.
For more information on Clove&Clive and the courses offered, please visit www.cloveNclive.com or mailto:cloveNclive@gmail.com or call Freddie Lee (+6)016-328 3366 [except between 6pm-7pm]