Paradise on earth
by Jamie Khoo, The Star, November 11, 2006
Kuala Lumpur, Malaysia -- KECHARA House, which takes its name from one of Buddhism's highest tantric deities' heaven, Kechara Paradise, was established in Malaysia in 2000, under the spiritual guidance of Tsem Tulku Rinpoche.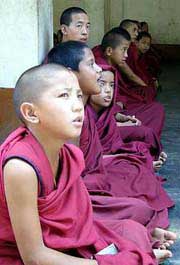 << Gaden Monastery currently fosters a whole new generation of young monks.
As a Dharma centre affiliated to Gaden Monastery in India, Kechara House strives to bring a Buddhist tradition to the contemporary society of Malaysia. As it respects all other religions already established here, Kechara House's emphasis is therefore not on Buddhism itself, but on the universally cherished values of compassion, harmony and kindness.
Kechara House follows the Gelugpa lineage which dates back to Lama Tsongkhapa but tailors the teachings to suit modern lives.
Tsem Rinpoche often advises his students: "If you don't believe in past lives or future lives – no problem. Believe in this life. If you don't believe in karma and religion and Buddha – no problem. But you can believe in humanity."
His teachings deal with the everyday problems we face and the very real ways in which we can alter something negative into something positive and beneficial. Students here are often reminded of how fortunate they are to be able to live in a country that has all the little luxuries to support daily and spiritual lives.
The centre therefore strives to extend help to the 3,000 monks in Gaden. This is with the hope that in supporting a monastic community, we can contribute to the development of future teachers who will be able to bring benefit to countless others through their teaching and practice.
Though it only costs RM1 (US$ 0.27) a day to feed one monk, the monastery remains severely under-funded. At present, even medical help and supplies are non-existent, and illnesses such as diabetes and tuberculosis affecting both monks and laypeople in the Mundgod area go untreated.
Kechara House thus strives not only to further the growth of Dharma teachings and be of benefit to people of this region, but also to raise awareness of Gaden so as to garner better support for the monastery.
There are four Dharma stores and publications housed under its wing, and all its activities and projects are aimed solely at supporting the monastic community and its work.
------------------------------
For more information about Kechara House and its activities, or for information on how you can contribute towards Dharma work in Malaysia call (03) 7806 4582, e-mail kh_info@kechara.com or visit www.kecharahouse.com or www.tsemtulku.com.