"The Journey of A Great Man" exhibition and talks to commemorate 3 month memorial for the late Ven. Dr K Sri Dhammananda
The Buddhist Channel, Nov 17, 2006
Famous monks scheduled to arrive in Malaysia for week long commemoration beginning November 26 to December 3, 2006.
Kuala Lumpur, Malaysia -- For many devotees particularly in Malaysia and Singapore, the late Venerable Dr K Sri Dhammananda Maha Nayaka Thera was not only a monk, he was also a "Great Man" whose life long service to the Dharma virtually transformed the Buddhist landscape here.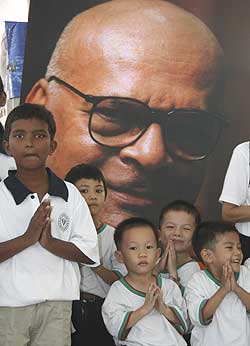 << In the eyes of Malaysian Buddhists, the late Chief Venerable K Sri Dhammananda was a great man
His funeral on the four days since his demise on August 31, 2006 was attended by almost 30,000 people, the largest Buddhist congregation at any one time in Malaysian history.
Come November 26, 2006, a week long programme will be initiated to commemorate the 3 month memorial of the late venerable. The programme will include Dharma talks by famous monks, among others such as Ven. Brahmavamso from Australia, Phakchok Rinpoche from Tibet, Ven. Mahinda from Malaysia, Ven. W Piyananda from the United States and Ven Hai Tao from Taiwan. An inter-religious dialogue entitled "Death and Reaching out in grief" will be held on the last day of the programme.
An exhibition entitled "The Journey of a Great Man" will also be held in conjunction with the memorial week. Apart from this, other activities such as blood donation, chanting sessions from various traditions, viewing of the late venerable's saririka (relics), an all night chanting as well as Sanghika Dana will also be held.
The main event for the week is the emplacement of the remains of the late Venerable Dr K Sri Dhammananda into a specially built stupa on Saturday, December 2, 2006. The site of the stupa is located next to the mahavihara's main stupa. For many Malaysian Buddhists, this will be a momentous occasion as it will be the first time the relics of a revered monk is emplaced in the 112 years old vihara.
Organising secretary for the memorial event Mr A Hemadasa said that memorial event is mainly Dhamma-based in nature to mark the spirit of Buddhist education strongly espoused by the late venerable. "He was a man rooted in Dhamma. As such, it is only fitting that the memorial emphasizes Buddhist teachings, traditions and values," Mr Hemadasa explains. As large crowds are expected to grace the week long event, Mr Hemadasa also hopes that devotees will abide by traffic regulations to ensure that they participate in the various events with no untoward incidents.
For more information and programme, please contact:
Mr A Hemadasa
Organising Secretary
3-month Memorial Programme for the Late Ven. Dr K Sri Dhammananda
c/o Buddhist Maha Vihara
123 Jalan Berhala, Brickfields
50470 Kuala Lumpur,
Malaysia .
Tel : +60-3-2274 1141
Fax : +60-3-2273 2570
E-Mail : info@buddhistmahavihara.com