Major Buddhist landmark coming up in Malaysia's industrial heartland
The Buddhist Channel, Dec 7, 2004
Shah Alam, Selangor (Malaysia) -- One of Malaysia's most famous landmark, the Sultan Salahuhddin Abdul Aziz Shah Mosque resides in the well laid out city of Shah Alam. As the capital city of Selangor, the mosque grandeur befits the state's status as Malaysia's most developed corridor.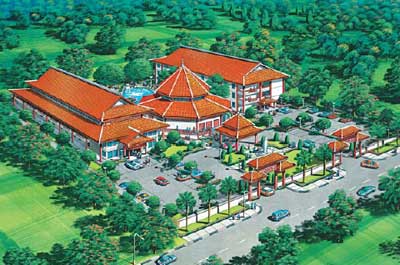 While visitors to Selangor's capital city would generally appreciate its cleaniless and organized structure, what's missing is the glaring lack of non-muslim architecture which permeates in other Malaysian cities, such as Petaling Jaya, Georgetown in Penang and Kuala Lumpur. However, that will soon change, as the state government has allocated a 1.7 acres of land to develop what is to be the first major Buddhist temple in Shah Alam.
The Buddhist development project, called Bodhi Park is situated in Section U12 of the city. It's owner, the Yayasan Belia Buddhist Malaysia (YBBM - Malaysian Buddhist Youth Foundation) intends to repay the state government's goodwill by dedicating the place as Shah Alam's main Buddhist centre, with emphasis on promoting education, cultural and spiritual activities to further strengthen the Buddha Sasana in the country.
Facilities to be developed in Bodhi Park include the following:
A main shrine that can accommodate about one thousand devotees for devotional activities
An auditorium that can accommodate more than one thousand people for the purpose of holding Conferences, Conventions, Seminars, talks, cultural and other gatherings organized by the Buddhist organizations especially those from the Universities and Colleges.
Bodhi House that will provide hostel facilities for at least two hundred participants
A Resource Centre with modern audio and visual facilities dedicated for Buddhist research and studies
An IT Centre with modern Information Computing Technology (ICT) facilities. It is expected that Bodhi Park will be the first Wi-Fi enabled Buddhist centre in the country.
A multi-purpose hall to conduct Sunday School for children in and around the area,
Rooms for meditation and other activities to accommodate the needs of the local residents.
It is anticipated that when completed, Bodhi Park will be a premier location for Buddhist outreach and Dhamma propagation. It will be a prime estate for promoting progressive Buddhism and a key centre for Buddhist youth development.
To kickstart the project, a fund raising event will be held at the Thean Hou Temple on December 25, 2004. The event is also organised in conjunction with the celebration of the YBBM's 25th anniversary. The guest of honour for the day is the Deputy Minister of Home Affairs, YB Datuk Tan Chai Ho.
Tickets priced at RM 50.00 each are still available. Those interested to sponsor tables are most welcomes. Each table goes for a sponsorship amount of RM 500.00. To obtain the tickets, please contact the following:
Bodhi Park Building Committee
Operation Centre:
22 Jalan 18/44
40200 Shah Alam.
Tel. 012-3915539
Tel/Fax: 03-55411613
E-mail: gohschai@tm.net.my
If you wish to make contributions, please visit the Bodhi Park's official website: http://www.bodhivision.net/bodhipark/contribute/howtocontribute.php.