A boost for Buddhists in Shah Alam
By LIM CHIA YING, Photo by SAM THAM, The Star, April 23, 2007
Shah Alam, Selangor (Malaysia) -- MEMBERS of the Shah Alam Buddhist Society (SABS) now have a more spacious building in Section 32, Bukit Rimau. Work on the two-storey building is 90% complete. Construction work started in March 2005.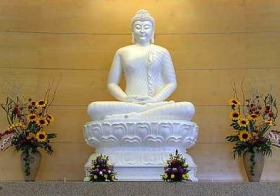 << Pride of place: The Sakyamuni Buddha statue from China placed at SABS's main shrine.
Spread over 60,000 sq ft, the building cost more than RM5mil to build and funds were donated by well-wishers and devotees.
"Contrary to assumptions, Shah Alam has a large Buddhist community," said SABS president Datuk Vincent Lim.
"This building will be ready in time for Wesak Day as we have planned to have our consecration ceremony on April 29.
"The consecration ceremony is to mark the official use of the main shrine and for Lord Buddha's statue to be housed here. There will be monks and nuns from the Mahayana, Theravada and Tibetan traditions conducting the ceremony," said Lim.
The statue of Lord Buddha that sits on the main shrine is made of pearl glow that was flown in from Fujian, China.
Other facilities include a multi-purpose hall, administration office, living quarters for reverends, a room to house Sutra books and a Kuan Yin exhibition hall with some 33 Kuan Yin statues in different forms.
There will also be a memorial hall with name plaques of the departed, a library, a free clinic service room, Dharma classroom and dining hall at the temple's semi-basement.
There will also be 53 washrooms in the building to cater to the large crowd during festivals.
A Bodhi tree, under which Lord Buddha received his enlightenment, will also be planted inside the premises. The sapling was brought in from Sri Lanka.
On the top floor, there is an open-air area for outdoor activities such as qi gong and tai chi.
Lim said although the building was almost ready, the official opening ceremony would only be held next year.
"There is still much to be done to the interior and we need to raise more funds.
"We are looking for sponsorship for the different Buddha and Boddhisattva images that will be placed in the longevity shrine, meditation hall and memorial rooms.
"Those who donate RM1,000 and above will have their names engraved on Buddha statue's sponsorship plaque," said Lim.
He said the society would be holding its annual charity fair on May 27 as one of its fund-raising activities.
For the consecration ceremony and Wesak Day, some 3,000 small and 300 big lanterns are being put up to adorn the temple.
SABS is located at No 9, Jalan Sg Congkak 32/41, Bukit Rimau, Shah Alam. For details, call 03-5121 5182/012-322 5219 (Br Chuah) or 016-307 7133 (Br Liow).