Work of devotion for a great Wesak
By LIM CHIA YING, The Star, April 26, 2007
Serdang, Selnagor (Malaysia) -- There is no mistaking that the minuscule artwork is of the the biggest Buddhist monument in the world. Only a structure like Borobudur can inspire an equally stunning model like the one being made.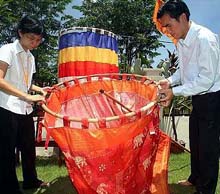 << Teamwork: Devotee Cheang Pey Shyuan and Wong adjusting one of the parasols.
However, there's no architect or engineer piecing together the model sculpture. The only craftsmen are teenagers from the Nalanda Dharma School.
Come June, the work will be shown to a few hundred thousand visitors, and Nalanda Buddhist Society advisor Tan Ho Soon believes the model is certainly ready for an international audience.
"This model is among the many hand-made exhibits that will be displayed at the Buddhist Culture & Arts Festival (BCAF) 2007 from June 6 to 10. The whole Borobudur edifice is a symbolic portrayal of the Buddhist cosmos.
"Legend has it that not long after its construction, Borobudur was mysteriously abandoned, probably due to a nearby volcanic eruption, as the entire temple was covered by earth until its discovery by Sir Stamford Raffles, the then governor of Java, in the early 19th century.
"The surprising fact is although Buddhism originated from India and is widely practised in countries like Sri Lanka, Myanmar and Thailand, it is Indonesia that houses the largest Buddhist temple," said Tan.
The Nalanda House in Taman Sri Serdang is now abuzz with groups of dedicated volunteers helping out in sewing, and preparing other paraphernalia for the festival.
"Preparation started two weeks ago, and all of us are excited because it'll be a massive festival that has never been seen before in this country. Coincidentally, the exhibits we are working on would also be used on Wesak Day on May 1," said Tan.
Secretary Wong Kin Yap said most of the display items are hand-made and hand-sewn using recycled materials which devotees brought from home.
"We are currently constructing a sedan to carry the Buddha image. It is made entirely of wood and will be featured during the Wesak procession," said Wong.
There will be 20 colourful parasols of different designs exhibited at BCAF. The parasols, said Tan, symbolise honour and respect for Buddha, his teachings, and the community of his noble followers.
"Parasols are something very traditional from India. You can still see people holding parasols when escorting a King or someone important, which is meant to honour that person," said Wong.
Elsewhere is another model artwork made from tissue rolls, supposedly to represent the ruins of celebrated library at the Nalanda Maha Vihara (Great Monastery of Nalanda), which is among the first Buddhist universities in the world.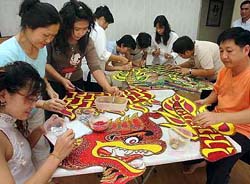 Dedication: Volunteers helping to create the Naga, regarded as symbolic to Buddhism >>
According to Tan, the place was originally a multi-storeyed building housing sacred Buddhist scriptures from all traditions before being reduced to ruins by invading armies from Central Asia in the 11th century.
"Today, Nalanda still evokes strong sentiments among Buddhists, especially educationists, for its notable role as the great centre of scholasticism," continued Tan.
Then there is the bamboo cloth, which Tan explained has been used since ancient times in places like Indonesia and Thailand.
"It is used to represent energy. In places like Indonesia, bamboo cloths are placed in a line on both sides leading towards a temple. As people walk past paddy fields to get to the temple, they can feel the energy that the bamboo cloths radiate when blown by the wind," Tan said.
"We will be placing the bamboo cloths at the exhibition's entrance and the back. The cloth will be in orange as the colour gives out good energy and vibes, which is what we want people to feel and, at the same time, it's something very traditional."
Wong said exhibitions like this would help improve public understanding of Buddhism.
"We (volunteers and devotees) are like one big family. Everyone camps here overnight on weekends so that we can finish the work on time for two very big occasions this year. And when everyone chips in to do something, they feel a sense of belonging! They can proudly say they made this and that and, at the same time, this is the group of people who are quietly working behind the scenes to put things together, especially since a lot of attractions at the festival are 'imported' from other participating countries," said Wong.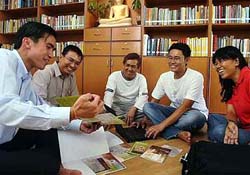 << Talking it out: Wong (left) discussing the event with volunteers.
The festival promises to be the largest ever showcase of Buddhist heritage in Malaysia.
"It'll feature very traditional elements, which brings people back to the roots of Buddhism, with paraphernalia that is full of heritage values, all set in a lively carnival-like atmosphere," he said.