Subang Jaya temples get ready for Wesak
By LIM CHIA YING, Photos by SAM THAM, The Star, April 27, 2007
Subang Jaya, Selangor (Malaysia) -- WESAK DAY is the celebration of the birth, enlightenment and death of Lord Gautama Buddha and temples nationwide are busy preparing for the special prayers on May 1.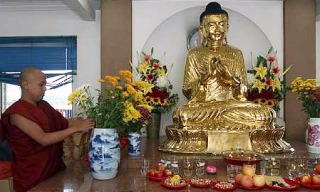 << Floral offering: A monk busy arranging flowers for the celebration.
The Subang Jaya Buddhist Association (SJBA) is no different and volunteers are busy making preparations at the temple.
They are putting up banners and bunting, adorning the temple grounds with lanterns and decorations as well as coordinating various activities for the public on Wesak Day.
On that day devotees will throng the temple to pay homage to Buddha by making offerings of lights and flowers.
SJBA Wesak Day organising chairman James Khoo said the celebration will begin with the lighting of oil lamps at 7pm on the eve of Wesak Day and a special puja at 8pm.
There will also be a Dhamma talk, procession round the temple, chanting and all-night meditation.
On Wesak Day, Khoo said, a special puja service will commence at about 8.30am after which the official launching ceremony will take place.
This will be conducted by Selangor state executive councillor Datuk Tang See Hang.
Other special invited guests are Kelana Jaya MP Loh Seng Kok and Subang Jaya assemblyman Datuk Lee Hwa Beng.
"Our venerable monks will also be present to bless the devotees and vegetarian food will be served from 11am to 2pm. A blood and organ donation campaign as well as free health checks are part of the activities," said Khoo.
The crowd in previous years numbered about 5,000 and he is hopeful that more or the same number would be present.
"As Malaysia celebrates her 50th anniversary this year, we have made a banner depicting Tunku Abdul Rahman, Tun Tan Cheng Lock and Tun Sambanthan. It will be unveiled on Wesak Day," he said.
As part of the temple's community service, it will be making donations to various old folk's homes and orphanages.
For details, call 03-5631 5299.
Besides SJBA members, others can also join in the Wesak Day celebration at The Summit, Subang USJ.
Jointly organised by The Summit and Malaysia Mahayana Buddhist Association, the celebration will take place from today until April 29.
The Summit USJ complex operation director Vincent Tiew said the mall would be giving away 1,000 lotus candles to the public to be lighted up at the opening ceremony. For details, call 03-8024 8866.