Celebrating enlightenment
by CHAI MEI LING, The New Straits Times, April 29, 2007
Kuala Lumpur, Malaysia -- Tuesday is Wesak Day, a special day for Buddhists in Malaysia. The Venerable B. Saranankara Nayaka Maha Thero, chief monk of the Sri Lanka Buddhist temple in Sentul, Kuala Lumpur, explains to CHAI MEI LING that Wesak Day is more than just holding a candle and taking part in a procession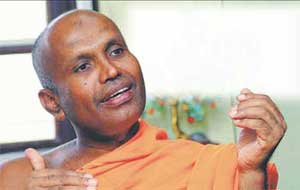 << The Venerable B. Saranankara Nayaka Maha Thero, chief monk of the Sri Lanka Buddhist Temple in Sentul, Kuala Lumpur.
Q: What is the significance of Wesak Day?
A: It signifies the birth, enlightenment and passing away of Gautama Buddha, which occurred in May during the full moon.
Every four to five years, there will be two full moons in this month, as with this year, on the 1st and 31st. The World Fellowship of Buddhists and the World Buddhist Sangha Council decided to mark Wesak on May 1. Wesak can be observed on both days. (Singapore will observe Wesak on May 31).
Q: How is Wesak Day celebrated in your temple?
A: On the eve of Wesak, we have a procession around the area, but we have cancelled it this year as we are busy preparing for the Buddhist Culture and Arts Festival in June. However, we will still be taking part in the main procession in Brickfields on Wesak Day.
Devotees will light oil lamps, lanterns and candles, and make offerings of flowers. Lighting lanterns and candles signifies dispelling darkness, symbolising an attainment of wisdom in this and the next life.
We will serve free food from the eve till Wesak night. We will also unveil the giant pandal and lanterns to be exhibited at the June festival.
Q: How many people do you expect to visit your temple?
A: Each year, we easily welcome up to 20,000 people. The Chinese throng this temple from Wesak eve to about 5pm on Wesak day. Indians start showing up after this. Most of the Indians are Hindus, but they still pray and request for the yellow thread and blessed water.
Q: What's different between Wesak celebrations then and now?
A: The Wesak procession, which is so beautiful, elaborate and colourful today, had humble beginnings. Those days, it used to be a village procession meant to bless the people and to help them overcome fear and difficulties and invite good luck and fortune. People would just walk around the temple holding candles and flowers. But now, in cities and towns, it has developed into an elaborate affair.
Walking in a procession helps to develop your mindfulness and encourages good thoughts which eventually radiate from you to others around you. People are comfortable with gatherings in the midst of a colourful setting nowadays. But Wesak is much more than that. It's about inner spiritual development.
Q: How can one develop spiritually?
A: Rid yourself of anger, hatred and delusion. Develop only good, wholesome thoughts and put these into practice.
Q: What do you think of the state of religious interaction in this country?
A: Every religion is an important component in creating an independent Malaysia and a country in harmony. And what we are seeing now is all religious groups — Muslim, Buddhist, Christian, Hindu and others — are in harmony.
That's the beautiful part. Credit should be given to the prime minister and government leaders for encouraging this.
Q: How does Buddhism contribute to the nation?
A: Malaysia celebrates its 50th independence this year, and celebrating it spiritually bestows great blessings unto the nation and us. This is part of the reason why we are holding the Buddhist Culture and Arts Festival.
To commemorate 50 years of harmony, we are limiting participation (in the festival) to 50 societies. The festival is also held in conjunction with Visit Malaysia Year 2007.
Q: What role does religion play in society?
A: Any religious group has a role to play. Modern society is plagued with problems, especially those involving the young. It is important to plant strong religious values in them. Religious organisations must provide them spiritual education.
I'm happy to note that more young (Buddhist) parents are exposing their children to spiritual development by sending them to (Buddhist) Sunday schools. More than 20 years ago, there were only two Sunday schools, but today, there are more than 40 in the Klang Valley alone.
Q: Is education the first step to developing the child spiritually?
A: Education is very important, but the development starts even before the child is born. When a mother is expecting, she must have good thoughts and free herself of stress. Stress comes from dissatisfaction and anger.
When the mother is free from this negativity, her mind is at peace. This is hard to do, but it can be done gradually. The mother's mental wellbeing can influence the baby, as verified by doctors of modern science.
Q: Why the emphasis on Sunday school?
A: It is important to understand the teachings of Buddha and to put them into practice than just burning joss sticks and lighting candles. Buddhism is not just a ritual; there must be understanding.
Buddha said offerings could be in two ways — Amisa Puja, which is material offering and Patipatti Puja, offering by practising the Dhamma (teachings of the Buddha).
Q: Tell us something about the Buddhist Culture and Arts Festival in June.
A: There will be drama and performances, chanting, movie screenings and an exhibition on Buddhism. The exhibition will feature relics and statues of Buddha, calligraphy and arts, stone and wood carving, and photo and stamp exhibitions. Many of the exhibits will be from China, Taiwan, Hong Kong and Indonesia.
The exhibition is not just for Buddhists. For instance, there will be stamps featuring Buddhist elements and floral arrangements and it will be of interest to stamp collectors and those who like flowers.
It will be held at the Malaysia International Exhibition and Convention Centre at the Mines Resort in Seri Kembangan on June 6-10. Admission is free.