Buddha sculptures on display to mark Wesak
By David Yeow, The New Straits Times, May 1, 2007
KUALA LUMPUR, Malaysia -- To mark Wesak Day, an exhibition of the Ama Rekha was held at the Buddhist Maha Vihara Temple in Brickfields yesterday.
Ama Rekha is an exhibition of 34 wooden sculptures illustrating 26 mudras (postures) of the Buddha.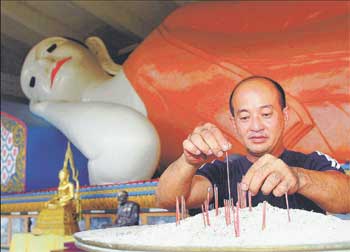 << Volunteer Ooi Tee Meang prepares for Wesak Day at the Buddha Wat Phothivihan temple in Kampung Jambu, Tumpat, Kelantan. The temple is the largest in Southeast Asia. —NST picture by Zaman Huri Isa
This is the first time the Ama Rekha has been taken out of Sri Lanka. It will be on display until May 7.
The artwork's creator, Ven Dr Wilegoda Ariyadeva Thero, who was present at the exhibition, said the sculptures took six years to accomplish, with the first mudra completed in 2004.
Before embarking on the project, he had travelled the world to study both ancient and modern mudras depicting the various hand gestures of the Buddha.
Also present was Deputy Minister of Higher Education Datuk Ong Tee Keat who opened the exhibition by releasing a giant lantern.
The Wesak Day celebrations will continue in the form of a street procession, which will start and end at the Buddhist Maha Vihara Temple in Jalan Berhala, Brickfields, tonight.
About 5,000 devotees are expected to attend.
Several roads will be closed from 6pm to 8.30pm. They are: Jalan Abdul Samad, Jalan Tun Sambanthan, Sultan Mohammad Roundabout, Jalan Kinabalu, Dato Onn Roundabout, Jalan Raja Laut, Jalan Semarang and Jalan Tuanku Abdul Rahman.
MCA president Datuk Seri Ong Ka Ting said the Wesak Day celebrations were a testament to the world that peaceful coexistence between different faiths was possible.
Ong expressed support for the Buddhist community's plan to build a Buddhism University.
He said the university was a great opportunity to promote unity through diversity not only for local believers but also Malaysians of other faiths to deepen their knowledge of Buddhism.