Malaysia: 50th Wesak Day celebrations reflect nationís progress
By David Yeow, The New Straits Times, May 2, 2007
KUALA LUMPUR, Malaysia -- While many Malaysians were still enjoying their Workers' Day sleep-in, Buddhists nationwide were already up celebrating Wesak Day. Thousands went to Buddhist temples to offer prayers for Wesak Day which celebrates the birth, enlightenment and Maha Parinibbana (ascension) of Buddha.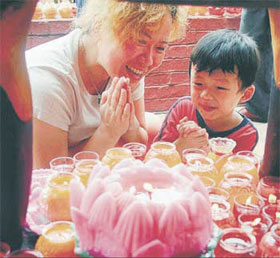 << Tan Swee Hong and her son, Lee Ming Jing, 4, taking part in Wesak Day celebrations at the Kwan Inn Teng temple in Petaling Jaya. —NST picture by Mohd Sairien Nafis
This year's theme "Religious Harmony, Key to Nation-Building" was chosen not only to mark the country's 50th year of independence but also 50 years of Wesak Day celebrations. Buddhism, which has been in existence for 2,551 years, is the professed religion of 19.2 per cent of Malaysians.
One of them is Ven Ming Yi, abbot of Kwan Inn Teng temple in Petaling Jaya.
According to him, Wesak Day is the busiest day for the temple, with as many as 2,500 visiting, some arriving as early as 6am to pray.
But contrary to public opinion, Buddhist prayers do not involve joss sticks.
"In multicultural Malaysia, people tend to mistake Buddhism for Taoism. We worship by presenting flowers instead," said Ming who explained that flowers signify the beauty of Buddha.
They also serve to remind Buddhists that everything in life is temporary.
Candles are also used in worship. Usually in the shape of a lotus, the candle is symbolic of the enlightenment of Buddha.
However, local Buddhists have one act of worship that is unique to Malaysia: The annual street processions in Brickfields and elsewhere.
Its uniqueness lies in the fact that some of the processions, such as the one organised by the Brickfields Buddhist Maha Vihara Temple, pass churches, temples and mosques.
This unique display of religious harmony is an eye-opener for many tourists.
"I love to see how the different faiths seem to harmonise. There is just so much understanding in the air," said Robert and Christie North from England who experienced their first Wesak Day celebrations yesterday.
"Seeing Emmanuel Church, which neighbours the Brickfields Buddhist temple, offering parking to the devotees was just amazing," said Sven Von Strucker from Germany.
In Georgetown, Penang, More than 10,000 Buddhist devotees, including Chief Minister Tan Sri Dr Koh Tsu Koon and several state executive councillors, took to the streets yesterday in a three hour-long float and candlelight procession in conjunction with Wesak Day.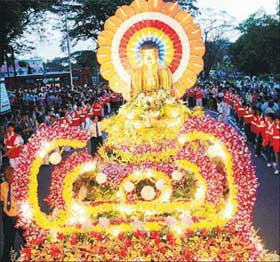 Devotees following the main float at a candlelight procession during the Wesak Day celebrations in Penang yesterday. —NST picture by Kamil Rahim >>
Some 23 Buddhist organisations took part in the 7km procession, involving 17 beautifully decorated floats which carried statues and images of Buddha.
The procession, which began from the Malaysian Buddhist Association in Jalan Burmah about 6.30pm, made its way along Jalan Pangkor, Jalan Kelawei, Pulau Tikus, Jalan Perak, Jalan Anson, Jalan Macalister, Lorong Madras and then back to Jalan Burmah.
Holding joss sticks, the devotees sang hymns along the way, lending a tranquil beauty to the annual Wesak Day celebrations here.
Themed "Religious Harmony, Key to Nation Building", this year's Wesak Day is extra special as it coincides with the country's 50 years of independence.
Earlier in the day, devotees thronged Buddhist temples and organisations, including the Mahindarama Buddhist Temple in Jalan Kampar, the Malaysian Buddhist Association in Jalan Burmah and Wat Buppharam Thai Buddhist Temple in Jalan Perak, to offer religious offerings.
They also took part in rituals such as bathing the statue of Buddha and chanting holy scriptures.
The devotees had been on a vegetarian diet to "cleanse" themselves prior to the occasion.
Wesak Day marks the day Siddharta Gautama Buddha was born, the day he achieved enlightenment and also the day of his death some 2,551 years ago.
A series of charity events were also held to mark the day, including blood donation campaigns, offering of food and gifts to Buddhist monks, dharma talks and charity dinners for the underprivileged and handicapped.
On Monday night, devotees lit 2,551 lotus shaped-candles at the Mahindarama Buddhist Temple which reflected the Buddhist year as calculated from the year 543 BC, the year Buddha died.
Meanwhile in Ipoh, Perak although some have opted to observe Wesak at the end of the month, yesterday's "official" celebration saw thousands of devotees flocking to temples here to mark Buddha's birthday.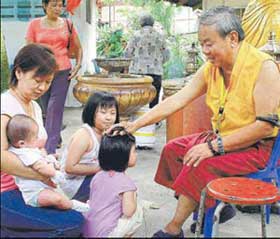 << Temple monk Kek Li blessing Oh Jia Ying, 4, her mother Oh Saw San, 36, and siblings Jian Sheng, 10 weeks old, and Jia Hui, 7,at the Enlightened Heart Buddhist Centre in Tambun. —NST picture by Jamah Nasri
At the Wat Siribunya Maggarama in Jalan Tambun, the highlight of the day was the bathing of the Buddha statue and garlanding it with jasmine.
Apart from lighting joss sticks and lotus candles, devotees also released doves and tortoises.
"Releasing the animals represents freedom," said temple vice-president Tan Ban Keng.
Devotees offered flowers and fruits. They also gave alms and donated towards the opening of the temple's main hall on May 13.
The annual sunning of the giant canvas painting of Sakyamuni Buddha at the Tibetan-styled temple of the Enlightened Heart Buddhist Centre in Tambun, however, will be held on May 31.
Events lined up for that day include running under the canvas to rid oneself of bad karma, the releasing of more than 1,000 doves and the hoisting of seven 3.6m-high statues to the top of the temple.
"Some people think that the full moon on May 1 is the brightest but Buddha's actual birthday is on the 15th day of the fourth lunar month (on May 31)," said a temple committee member.
The Malaysian Buddhist Association had opted to celebrate Wesak on May 1 to conform with a resolution passed by the World Buddhists Conference in 1950 in Sri Lanka, which stated that Wesak celebrations should be held on the first full moon of May.
Confusion had arisen as there are two full moons this month, one on May 1 and the other on May 31.