Boss with a big heart for the less fortunate
By RACHAEL KAM, The Star, May 19, 2007
Kuala Lumpur, Malaysia -- For the last eight years, he has been spending every alternate Sunday at the Buddhist temple in Brickfields, Kuala Lumpur, lecturing on moral education to a class of hearing impaired adults.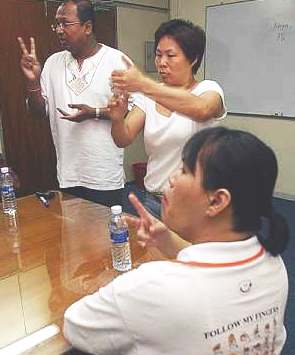 << K. DON Premaseri is the boss at Federal Express Services (M) Sdn Bhd (FedEx).
Describing his "work" there, Premaseri says he gets a warm welcome from his students each time he steps into the class. Their laughter and warm greetings have kept him going back.
K. Don Premaseri teaching a hearing impaired class at the Buddhist temple in Brickfields
Premaseri was born in Brickfields and lived near the temple for 33 years until he got married and moved to Subang Jaya. Being a Buddhist, he used to go to the temple every Sunday for prayers and from there he got to know about their welfare programmes for the handicapped and lent a hand whenever volunteers were needed.
On what started him on the road to volunteerism, he recalls the day when he saw a primary school boy help a blind man cross the road, an act that touched him so much that he told himself that he must also do the same for others.
"What is important is if you can do someone a service, why not?"
In FedEx, Premaseri said employees are encouraged to be good corporate citizens and give something back to the community in which they work or live. "It's also a natural evolution for me as an employee."
"I continue to do it because we're not paid for it, yet it fills your heart with joy," he told StarBiz.
"It is natural for me to volunteer to do this sort of work because it is part of the FedEx corporate culture," said the managing director of FedEx Malaysia and Brunei district.
Premaseri credits his late mother for his love to help others. She was a teacher who deeply cared for and loved her students.
"Maybe she imparted her teaching skills to me. My ambition was once to be a lecturer," he said with a laugh.
The cheerful and humorous 40-year-old teaches a class of about 20 adults aged between 25 and 50. He shares with them knowledge like human rights and positive thinking and teaches them how to protect themselves.
He is assisted by another volunteer, Lee Bee, a sign language interpreter at RTM. Their students include working adults and the unemployed.
Premaseri says about 1% of the Malaysian population, or 220,000 people, are handicapped. Of this number, 20,000 to 30,000 are hearing impaired.
He said through Braille, the blind could, for instance, attain higher levels of education and command better income if they were given positions such as telephone operators.
"However, many of my students are clerks and drivers from the very low income group compared with those who are blind."
In 2002, Premaseri and Lee approached the Energy, Water and Communications Ministry to waive the access fee on mobile phones for the deaf and only charge for short messaging services. This is because the deaf do not have access to computer technology, and the safest and easiest mode for them to communicate is through their mobile phones.
Eventually, Celcom became the first and only telecommunications company to exempt the access fee for the hearing impaired.
"So, that was the achievement of my life. At least, there was something tangible for the whole deaf community," he said.
Premaseri said his classes for the hearing impaired were like FedEx's own tuition assistance of up to a maximum of US$2,500 per year for all employees worldwide to further their studies," said the doting father of four children aged between nine months and six years.
A graduate from Universiti Pertanian Malaysia, Premaseri holds a Masters in Business Administration. He also has a bachelor's degree in industrial technology from Universiti Sains Malaysia.
He joined FedEx Malaysia in 1996 as a station operations manager and then was promoted to senior manager. As managing director, he is responsible for developing and executing corporate strategies in Malaysia and manages over 500 employees.
Premaseri loves spending quality time with his children and wife, Sunetha, 36.
"When I get back home, my children's smiles can just make me drop everything. It's a real joy!"
The family goes to the movies on weekends and if he gets back early on working days, they will also go for movies and do some shopping.
Premaseri enjoys a good joke and scours for books on jokes whenever he visits a bookshop.
"I also read a lot on economics," he said, adding that such books were good for ideas to apply at work and topics to impart at his Sunday classes.