Religious programmes to mark first anniversary of great Venerable's demise
The Buddhist Channel, Aug 28, 2007
Kuala Lumpur, Malaysia -- A month long programme was initiated by the Buddhist Maha Vihara here to commemorate events leading to the first anniversary of the demise of the late Venerable Dr K Sri Dhammananda. The first anniversary memorial will be held at the Maha Vihara compound on August 31, 2007.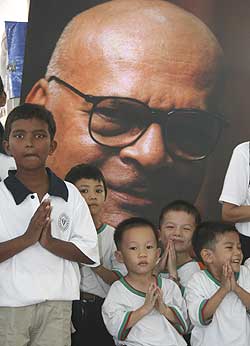 << The late "Chief" was well loved by all
The programme will include Dharma talks by well known monks, among others such as Ven. Pannaji and Ven. Thittadhammo. An exhibition entitled "The Journey of a Great Man" will also be held in conjunction with the memorial event.
Apart from this, other activities such as blood donation, chanting sessions from various traditions, viewing of the late venerable's saririka (relics), an all night chanting as well as Sanghika Dana will also be held.
For many devotees particularly in Malaysia and Singapore, the late Venerable Dr K Sri Dhammananda Maha Nayaka Thera was not only a monk, he was also a "Great Man" whose life long service to the Dharma virtually transformed the Buddhist landscape here.
Ven. Dr. K. Sri Dhammanada is a household name in the Buddhist world. In more than forty two years as incumbent of the Buddhist Maha Vihara, Malaysia, the Venerable has brought the Buddha Word to countless numbers of devotees who otherwise would have has no access to the sublime message of the Enlightened One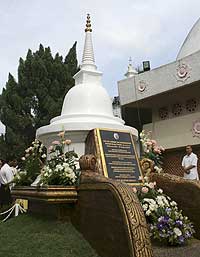 The late Ven. K Sri Dhammananda's relic is interned here inside this stupa. The stupa is located within the Buddhist Maha Vihara compound >>
Besides his talks the Venerable has been able to reach an even wider audience through his publications which range from the voluminous "Dhammapada" to little five page pamphlets.
He was able to reach all levels of readers from erudite scholar monks to young school children. His whole approach to the exposition of the Dhamma is governed by his deep concern for giving the ancient teachings a contemporary relevance, to show that the Sublime Message is timeless and has a meaning that cuts across the boundaries of time, space, race, culture and even religious beliefs.
For more information about the first anniversary memorial, please contact:
The Organising Secretary
1st Anniversary Memorial Programme for the Late Ven. Dr K Sri Dhammananda
c/o Buddhist Maha Vihara
123 Jalan Berhala, Brickfields
50470 Kuala Lumpur,
Malaysia .
Tel : +60-3-2274 1141
Fax : +60-3-2273 2570
E-Mail : info@buddhistmahavihara.com