Enlightened through art
By JAMIE KHOO, The Star, December 30, 2007
Art has always served as a means of connecting with the metaphysical, so here's a look at a special art centre where spirituality reigns
Petaling Jaya, Malaysia -- NAMED after the Buddha of arts and wisdom, the new Kechara Saraswati Arts (KSA) in Petaling Jaya brings new dimension to artistry by elevating it to a whole new level.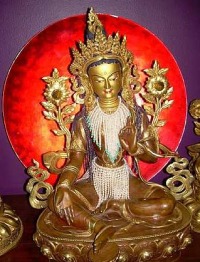 << An example of the intricate bead work made for Buddha statues. – Photos by JAMIE KHOO
Hailed as the first Tibetan art studio in South-East Asia, KSA combines contemporary approaches with traditional Tibetan- and Buddhist-inspired art, bringing age-old spirituality well into the 21st-century.
The search for spirituality through art is as old as art itself: After all, it's well known that many artists try to find a higher truth in their creative endeavours. In fact, some of the most intriguing artworks are born out of revelations or contain metaphysical elements that mystify the viewer.
KSA, however, takes a different approach and hopes to spread spirituality through art. Inspired by the spiritual advisor of the centre, Tsem Tulku Rinpoche, KSA seeks not to turn people towards a monastic way of living, but to inspire them towards engaging in spiritual activity through contemporary means, such as art.
It is linked to a dharma centre (study centre) called Kechara House, that aims to encourage people to follow a spiritual path within the parameters of a 21st-century lifestyle and culture.
KSA was also created as a spin-off from Kechara House's four non-profit stores.
As demand for Buddha statues and offerings has been growing over the years, Tsem Rinpoche figured it was easier to have an in-house art department that could make these items readily available. Otherwise, these items would have to be brought in from India and Nepal. This involves a tedious process, and purchasers end up paying a lot more.
The centre started out with only a handful of statue painters, but KSA has now expanded to include a whole team of artisans who specialise in various traditional arts.
The studio's work involves painting Buddha statues in a very traditional way (as taught specifically by trained Tibetan artists), preparing holy items to be put inside statues for consecration, intricate bead and pearl work for offerings, making rosaries, and sewing traditional clothes to be placed on Buddha statues.
Products are personalised to suit the customer's artistic preferences or practice requirements while keeping to the essence of traditional Tibetan art.
Despite the nature of its craft, the centre retains a youthful edge. The group is headed by two young professionals – classical singer James Long, 23, and advertising design company director, Joy Kam, 31 – who developed the group on a voluntary basis. All artists in the group also contribute their time freely, as unpaid volunteers. Any funds raised from the work are used to cover costs or channelled into supporting dharma work.
Incidentally, the team also boasts award-winning fashion designer Eric Choong among their artists; he heads KSA's sewing department and oversees all cloth and clothing creations.
"This is a very direct way of doing spiritual work without having to go to the temple,'' explains Choong of his motivation for working with the group.
"I really like Tibetan culture and arts. I find it very mystical, rich, intriguing and it creates a lot of inspiration for my own design work."
------------------
# For more information on Kechara Saraswati Arts and its services, go to kecharasaraswati.com or call James Long at 03-7873 6703 or 012-772 0289.