In death, she saves lives
By TAN SIN CHOW and CAROLYN OOI, The Star, March 30, 2008
PENANG, Malaysia -- Anaesthetist Dr Tan Bee Hooi was a staunch believer in donating organs to save lives.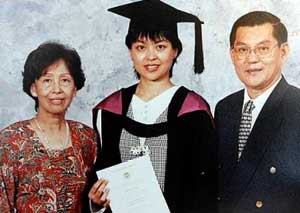 << Happier times: A family album pic of Dr Tan wearing her graduation robes posing with her retired teacher mother Khor and father Gin Soon.
And when she died, her corneas, heart, kidneys and liver were harvested for patients waiting for transplants in France and other European countries.
"That would give her a deep and abiding interest to serve fellow human beings," said her father Datuk Tan Gin Soon.
"As a staunch Buddhist, she also believed it was more blessed to give than to receive. I feel happy that even in her death, she could give others a new lease of life," Tan said in a telephone interview from Paris, France.
Bee Hooi underwent a surgery related to arteriovenous malformation (AVM) in her brains at the Fondation Rothschild Hospital in Paris, France, on March 11 under the care of Professor Jacques Moret, a world-renowned interventional neuroradiologist.
However, she succumbed to complications from the surgery and was pronounced dead on Wednesday.
AVM is a congenital disorder caused by abnormal development of blood vessels.
Her father said Bee Hooi, a medical graduate of University of Sydney, had always expressed her wish to donate her organs.
Tan, a Penang Rotary Club past-president and Penang Youth Council past-president, described Bee Hooi, a doctor with Penang Hospital, as committed and caring.
"Despite her busy schedule, she also found time to help others through social works and volunteered her services at the Mahindrama Temple at Kampar Road," he said, adding that Bee Hooi told him to look after the family before she died.
Bee Shin, 26, said her eldest sister was a strong-willed person.
Her mother, Khor Mooi Looi, 61, a retired teacher, said Bee Hooi had wanted to open the first pain management clinic at Penang General Hospital if her operation was successful.
Malaysia's Ambassador to France Datuk S. Thanarajasingam described Bee Hooi as a truly remarkable woman.
"Even in death, she has given a lifeline to others," he said.
Bee Hooi's remains are scheduled to reach Penang International Airport at Bayan Lepas today. The single-mother left behind two sons, Tan Xin Yeng, five, and Tan Xing San, seven.