The Thai-ping temple
The Star, March 30, 2008
Taiping, Perak (Malaysia) -- AT FIRST sight, the Wat Bodhiyaram Buddhist Temple looks like just any other Thai temple in Malaysia. But its name should have given a clue to the hidden treasures within the temple area.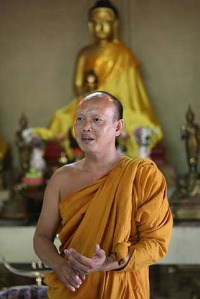 << Phra Korn Thammawaro speaks to the BRATs about the Thai community in Taiping, and his life before monkhood.
Wat is Thai for temple, and what makes this particular one located in Taiping, Perak, unique is the fact that within it compound lives a small Thai community. At present, there are about 30 Thai descendants living there. Over the years, through assimilation and marriage, the decendants are well-acquainted with both Thai and Chinese culture alike.
The temple was built 123 years ago, and has remained a significant place of worship for the Buddhist community in Taiping.
Today, the community may have moved away beyond the temple grounds but the devotees often return to contribute by carrying out chores to keep it clean and sacred.
Nailiong Nailing, 56, helps out by providing transport for the community living there. According to him, the reason they are willing to spend so much time at the temple is because they feel responsible as part of a devotee to Buddhism.
Unfortunately, a large part of the Thai culture is no longer practised by these people as they have adopted the Chinese customs when they came to Taiping. However, they still celebrate a few major Siamese festivals like Songkrang (Thai New Year). They also celebrate Chinese celebrations like Chinese New Year as well as cheng beng, when people tend to the graves of departed ones.
Phra Korn Thammawaro, 42, grew up within the temple grounds but as he grew older, left to work in construction and sales. It would be many years before he returned to live in the temple in 2006, this time as a monk.
Born Lim Hock Heng, Phra Korn never had intentions of becoming a monk. It was an unexpected incident that changed it all.
"I knocked a child. I went to pay respect to the Buddha. I said if this child nothing happened to her, I will pay respect back to be a monk," he shared.
The girl is now 11-years-old, and has recovered.
Talking about growing up at the temple, Phra Korn recalls a pretty normal life.
"Last time, as children, we were very naughty," he said, sharing stories about how he and his friends used to play tricks and tease the devotees.
Today, he is responsible for the temple's daily affairs and was even involved in the renovation of some of the old buildings, and building a couple of new ones.
Phra Korn shares that the Thai community is close-knit, and while many of them have moved away from the temple compounds, they usually return on weekends and during major festivities like Wesak Day.