Wesak fair returns for second year
The Star, May 3, 2008
Subang Jaya, Selangor (Malaysia) -- COME and show support for a charity bazaar in conjunction with Wesak Day that will benefit the construction of the Dharma Buddhist University.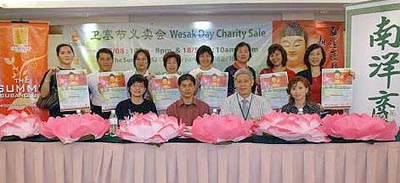 << All set: Organising committee members with the flyers for the charity event.
This is the appeal of the organisers of the second Wesak Day celebration-cum-charity festival at The Summit Subang USJ from May 17 to 19.
The organisers are The Summit, Summit Dharma Vihara and Nanyang Siang Pau.
Organising chairman Pang Yoon Choi from the Summit Dharma Vihara said the Dharma Buddhist University would be located in Bentong, Pahang, but nothing had been built as things were still at the fund-raising stage.
"There is no targeted amount as we are building the university using whatever funds we manage to raise.
"Once ready, it will be used as a school to promote Buddhist thoughts.
"I hope the public will support this event, as we are hoping to raise about RM100,000 over the three days."
The Summit advertising and promotions manager Wivien San said the mall was targeting 10,000 visitors during the celebration.
"We will once again be giving away 1,000 lotus candles to the public for them to participate in the lighting up ceremony on the opening night on May 17 at 7pm," San said.
"For the charity bazaar, there will be more than 60 booths selling home-cooked food by volunteers who are also devotees at the Summit Dharma Vihara, as well as an assortment of items like household stuff, books, and clothes.
"Entrance to the event is free and all proceeds raised from the sales will go towards the university's development fund."
Nanyang Siang Pau cultural industrial promotion general manager Cheng Khee Chien said this year marked 2,552 years since the birth of Buddhism.
"This is also the second time that we are jointly organising this event with The Summit USJ," Cheng said.
Wesak Day is regarded as the most auspicious day in the Buddhist calendar as it signifies the birth, enlightenment and death of Lord Buddha.
"On this date, devotees will throng temples to carry out prayers, offerings, chanting, and alms giving.
A host of activities has been lined up throughout the three days.
They include a dharma talk by Venerable Master Hui Hai from Taiwan, a Chinese calligraphy exhibition, a children's drawing contest, and dance and singing performances.
The dharma talk will take place on May 17 at 8pm at the Summit auditorium on the fourth floor of the mall.
The highlight will be the Bathing the Buddha ceremony, where the public could join in to pour water over the shoulders of Buddha, a ritual that serves as a reminder to purify the mind from evil.
Pang said fund-raising for the university began in 2005, but since the place was not built yet, students were now studying at a temple in Bentong.
For event details, call Pang at 012-2043 329.