Malaysian Prime Minister makes historic visit to Buddhist temple
The Star/Bernama, May 18, 2008
KUALA LUMPUR, Malaysia -- Malaysian Prime Minister Abdullah Ahmad Badawi became only the second Prime Minister to celebrate Wesak Day at the 113-year-old Buddhist Maha Vihara in Brickfields.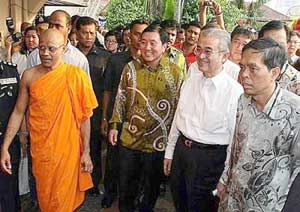 << Wesak Day visit: Abdullah (second from right) being greeted upon their arrival at the temple in Brickfields. On the right is Ang Choo Hong, President of the Buddhist Missionary Society of Malaysia.
Yesterday, Chief High Priest of Malaysia, the Most Venerable K. Sri Dhammaratana, called it a historic moment for the temple, as it had been a long time since the country's first Prime Minister Tunku Abdul Rahman visited the temple in 1967.
Abdullah's presence was confirmed only at the last minute as he had just finished a meeting with the MSC International Advisory Panel.
In his Wesak Day greeting to Malaysians, the Prime Minister hoped that the multiracial communities would continue to live in peace so the country could continue to prosper.
"There is no religion in this world that wants its followers to create problems for people of other faiths.
"Whether we are Buddhists, Muslims or Christians, we must live together in peace and prosperity in this beloved country of ours," he said in his brief speech during his visit to the Maha Vihara Buddhist temple in Brickfields here which was holding a Wesak Day celebration Saturday.
Abdullah also took the opportunity to wish the Buddhist community in the country Happy Wesak Day which falls on Monday.
He said Malaysia was for people of all faiths with the hope that everyone could receive education and employment to achieve prosperity.
"All citizens have the right to practise their religion and this is one of the special things about this country," he added.
Earlier, Abdullah said his late wife, Datin Seri Endon Mahmood used to pay a visit to the Maha Vihara but he was unable to accompany her during those visits.
Present were Housing and Local Government Minister Datuk Seri Ong Ka Chuan, Gerakan acting president Tan Sri Koh Tsu Koon, Bukit Bintang MP Fong Kui Loon, Lembah Pantai MP Nurul Izzah Anwar and Wangsa Maju MP Wee Choo Keong.