Start the New Year by attending a talk
By TAN KARR WEI, The Star, July 30, 2008
Kuala Lumpur, Malaysia -- BUDDHIST devotees can celebrate New Year's Eve this year at a Dharma Talk and Sharing of Merit Blessing ceremony by Venerable Hui Lu at Stadium Putra Bukit Jalil, Kuala Lumpur.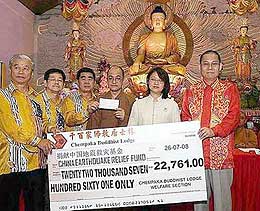 << For a good cause: Chew (second from right) witnessing the cheque presentation of the funds collected by Chempaka Buddhist Lodge for the China earthquake relief fund. From left are Chempaka Buddhist Lodge chairman Liew Chang Huat, Tan, Chempaka Buddhist Lodge vice-president Sow Tiam Huat and Ven Su Wen.
Hui Lu is a Taiwanese Dharma speaker who has given talks to crowds of 100,000 people and more.
He will present a talk about the true meaning of Buddhism on Dec 30 and 31.
The event will be hosted by about 100 Malaysian Buddhist Associations led by the Chempaka Buddhist Lodge and the Kuching Buddhist Society.
Wanita MCA deputy chief Datin Paduka Chew Mei Fun was the special guest at the launching of the event at the Chempaka Buddhist Lodge in Petaling Jaya.
Chew said the event would be a good opportunity for Buddhists in Malaysia to find out more about the religion.
She also witnessed the handing over of funds collected by the temple for the Myanmar cyclone (RM28,784.70) and China earthquake disaster victims (RM22,761).
Disaster fund organising chairman Tan Kok Ing said the funds were collected from their devotees from May to July with the bulk of it during the Wesak Day celebrations.
Those who would like to make contributions towards the programme or sign up as volunteers can contact the Chempaka Buddhist Lodge at 03-7880 3936.