Pure charity
By CATHERINE SIOW, The Star, October 22, 2008
Service at Pure Lotus Hospice in Penang goes beyond the call of duty as the ailing and destitute find solace and peace
Penang, Malaysia -- AH HEOH was her name but she was referred to as "angel" because she had a smile for whoever came her way. The petite 34-year-old had two children, aged four and three. Her husband left her when she was diagnosed with terminal cancer.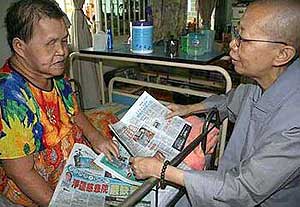 << Ven Lyan Shih with a resident at Pure Lotus
She was transferred from hospital to Pure Lotus Hospice of Compassion in Penang where she stayed for two weeks before she passed away with a smile on her face in the wee hours on the morning of the goddess Guan Yin's birthday in July 2003.
When Ah Kim was brought to Pure Lotus in August 2001, what was left of her face was just the contour. Her cancer had consumed her eyes, nose and mouth, leaving a depression where her face used to be. The hospice nurses had painstakingly picked out the maggots which almost filled a kidney dish. When asked why treatment was not sought earlier, her relatives said they had taken Ah Kim to hospital but were told that nothing more could be done for her.
Ah Boy was eight when he was diagnosed with cancer in the arm in 2003. The limb was subsequently amputated. His Thai mother had gone back to Thailand when he was very young and his Malaysian father soon followed suit, leaving him in the care of his grandmother and aunt. He was brought to Pure Lotus in 2005 when the cancer had spread to his brain.
As the tumour in the brain grew bigger and pushed his left eyeball out, Ah Boy would not open his eyes to look at people as he was ashamed of his looks. The hospice nurses were very affected by him and did all they could to make him as comfortable as possible. He was referred for radiotherapy treatment at a hospital but soon succumbed to the disease. Towards the end, when he knew he was dying, he was very calm and waited for his grandmother to get to the hospital. He drew his last breath when she arrived from Sungai Petani, Kedah.
"These are some of the people who had found some respite in Pure Lotus after being told by hospitals that nothing more could be done for them," says Venerable Lyan Shih, founder and director of the hospice.
A non-profit organisation, Pure Lotus began operations in 2001, providing care for end-stage cancer patients of all ages, irrespective of race and religion.
"Service at Pure Lotus is free. We have been fully funded by public donations right from the start. I am much indebted to the generous donors and to the committee of capable and committed volunteers from various fields of expertise, most of whom were the pioneers who helped me establish the hospice," says Ven Lyan Shih, a former nurse tutor with government hospitals who left the home life in 1992.
Though Pure Lotus is well supported now, the 68-year-old Buddhist nun recalls its "misunderstood" early days.
"In 2001, we started off with a rented bungalow in Wright Road. One week into operation, we received an eviction notice from the MPPP (town council) because of complaints from neighbours who thought we were running a funeral parlour! We then urgently looked for a more suitable place and raised enough money to buy the current bungalow which was renovated to house a 16-bed hospice," says the Ipoh-born nun who opted for early retirement at age 50 after 30 years in the nursing profession.
"Over the years, those who have come to us include the terminally ill, destitute and homeless. We have had vagrants brought to us in the filthiest of conditions. We cleaned, clothed and nursed them. It is amazing how they change under care. I recall a case who would resist every time the nurse took him for a bath as he was not used to bathing, being one who used to sleep on the five-foot way. He wouldn't use the urinal and would piss everywhere, giving the nurses a difficult time. Eventually we won him over. He became very co-operative, appreciative of our services, and even said 'thank you'."
However, those who come to Pure Lotus are not only the ailing and desolate.
"We have many dedicated volunteers, lay and professional alike, who come to do service in various areas at the hospice. They are people from all walks of life, including students from Universiti Sains Malaysia, Universiti Utara Malaysia and other learning institutions. We also have many charitable clubs and associations that come in to help us raise funds and spend time with our residents.
"Then there are the medical students and trainee nurses who come in for their electives as part of their studies. They not only learn about palliative care and other medical aspects, but also about recycling and fund-raising at our recycling centre," says Ven Lyan Shih.
Outreach programme
In 2004, Ven Lyan Shih, started the HIV/AIDS Outreach Programme with the help of Yap Peng Huat, a 45-year-old community HIV/AIDS officer who has been working alone to help this group of people.
"Mr Yap visits patients in hospitals, takes new clients to see doctors and buys the medication for them. The money is from our HIV/AIDS budget. We also provide foodstuff and other necessities whenever required for widows with HIV/AIDS and their children. We also give them an allowance especially to help with the children's schooling expenses.
"Working with this group is heart-breaking as they are ostracised by society. Most, if not all, of the mothers have to hide the cause of their fathers' death from the children. These people have to live their lives in the shadows."
A spin-off from the outreach programme is the Pure Lotus Bodhi Home for Children which Ven Lyan Shih started in 2007.
"Bodhi Home came about more by accident than by design. I had wanted to set up a home for mothers with HIV/AIDS and their children but unfortunately they were afraid to come and stay for fear of exposure. So I thought I would set up a home for children instead.
"The home takes in orphans, children from single parents who could not afford to look after them, and children from broken and impoverished homes. The kids are aged between five and 10 years. We take care of them till they are 18 and if they are good in their studies, we look for sponsorship for their higher education."
It has been a gratifying journey thus far for Ven Lyan Shih at Pure Lotus as she strives to fulfil her dream of making the world a peaceful and beautiful place, free from suffering.
"I have been blessed by the people who have lived, albeit shortly, at Pure Lotus. I am also blessed by the volunteers who have been with me since day one and the many others who come to do service at Pure Lotus. I am greatly touched by their compassion and love and will forever be indebted to them for helping me make Pure Lotus a place where the sick and suffering find solace, the poor are not denied care and the dying find peace of mind," says Ven Lyan Shih.
Pure Lotus Hospice of Compassion is located at 73, Jalan Utama, Penang. For more information, call 04-229 5481 or go to plotus@streamyx.com / www.purelotushospice.com.