Kung fu kids – out of Africa
By WANI MUTHIAH, The Star, December 28, 2008
KLANG, Malaysia -- Enock Belo is every inch a Shaolin kung fu exponent. He throws flying kicks, jumps over obstacles and delivers his strikes smoothly. Belo is 10 years old. And he's African.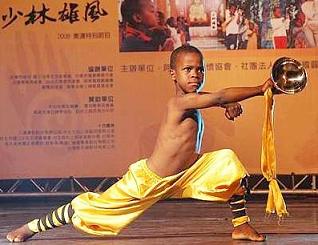 << Star of the troupe: Enock exhibiting his moves during one of the troupe's performance.
The Malawian orphan, who is a resident of the Amitofo Care Centre (ACC) in Blantyre, southern Malawi, is one of the 200 children in the orphanage being trained in the ancient Chinese martial art.
ACC founder, Taiwanese Buddhist monk Hui Li, said Belo and the other children are being trained in the martial art form by three monks who are Shaolin kung fu masters brought in from China.

"The children are trained for three hours a day, six days a week by the Shaolin masters," said Hui, who is currently here with 20 children from ACC.
The trip was made possible with sponsorship by several local Buddhist organisations, including the Ti-Ratana Welfare Society.
The monk and the children are putting up several shows around the country to raise funds.
Hui, who is known as the African monk within Buddhist circles, said he introduced the martial art form to the children to build their self-esteem.
"Most of the children here are either orphans or have only one parent and they come from very poor backgrounds.
"When they came to ACC, they were all very timid with very little confidence in themselves, and training them in Shaolin kung fu helps us counter this problem," said Hui.
When asked why he liked Shaolin kung fu, Belo, who is the star of the troupe, said it helps him keep fit.
"Shaolin kung fu makes me strong and keeps me disciplined," said the orphan, who has been living in ACC since it started operations in 2003.
Ti-Ratana Welfare Society founder and adviser Ven Rev K. Sri Dhamma­ratana said the group will be performing at the Buddhist Maha Vihara in Brickfields on New Year's Eve.
"The event starts at 8pm and there will be dinner followed by the group's performance, and a blessing ceremony starts at 11pm," said Ven Rev Sri Dhammaratana, who is also the Buddhist Chief High Priest of Malaysia.