Wesak Day's message from the Prime Minister of Malaysia
by Dato Seri Najib Tun Razak, http://www.1malaysia.com.my/, 8 May 2009
Putrajaya, Malaysia -- Tomorrow many here in Malaysia and all over the world are celebrating Wesak Day, the most holy time in the Buddhist calendar. It is a day when birth, enlightenment and passing of the Buddha is commemorated. It is also a day on which special efforts are made to bring happiness to others, especially the disadvantaged.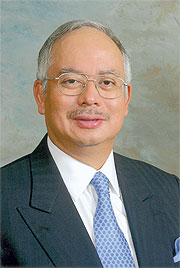 In honour of Wesak Day, I would like to extend the Buddhist community my deepest respects. Wesak Day celebrations and values are centuries-old. These traditions, and the Buddha's message of universal peace to mankind, add to our society's rich heritage. It is this diverse heritage that has been the foundation of our hard fought harmony, the foundation of Malaysia's success.
I would also like to commend the charitable actions of all those celebrating this day, those thinking of others and undertaking small acts of charity for others facing hardship. All of us could learn from this generosity, and we should seek to extend it throughout the year to all Malaysians.
What I admire the most about this faith is that it encourages all Buddhists to achieve this state of fulfilment through peaceful ways. This is a community that firmly believes in doing good to ensue long-lasting returns and accepting others amidst our differences. The Buddhist moral code is admirable and similar vales are shared by most faiths. Regardless of religion, ethnicity or creed, there is so much that makes us similar. As humans and as Malaysians.
On this Wesak Day, I call on all Malaysians not to focus on differences between one another, but instead to actively look for similarities and common ground. In the spirit of human progress, in the spirit of developing this great country; in the spirit of 1Malaysia. I hope to hear more from the Buddhist community in my interactions with the Rakyat, whether on the street, at events, or through my website.
Have a joyful Wesak Day!