Procession of lights for Wesak
By Veena Babulal and Audrey Dermawan, The New Straits Times, May 10, 2009
KUALA LUMPUR, Malaysia -- Thousands of Buddhist devotees thronged temples nationwide to celebrate Wesak Day.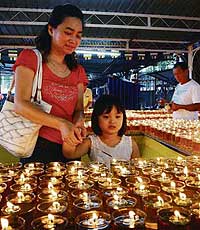 << Lim Lee Ching and her daughter Tan Hann Lynn lighting up candles at the Watt Siam temple in Jalan Telok Wanjah, Alor Star, yesterday. — Picture by Syaharim Abidin
They lit oil lamps, burnt incense, gave offerings of flowers and sought blessings from the monks.
More than 100,000 Buddhists visited a number of temples in the Klang Valley, including the Wat Chetawan Thai Temple at Jalan Gasing, the Malaysian Buddhist Association shrine at Old Klang Road and the Buddhist Maha Vihara Temple at Brickfields.
At the Buddhist Maha Vihara Temple, volunteer Prematilaka K.D. Serisena said that an offering of oil lamps denotes a being transferring his or her good merits (Dharma) onto a departed soul, lingering in the spirit world.
He said that lamps symbolised wisdom, while darkness ignorance. And what better day to offer light to a being stuck in this dimension of suffering and transition than the day Buddha achieved enlightenment. More than 3,000 lamps were lit by volunteers and lined at the entrance of its regal Asoka Hall.
A lantern and float procession was also held in the city centre in the evening.
The procession of 20 floats which went through the Golden Triangle for the first time toured Jalan Petaling, Jalan Gereja, Jalan Raja Chulan, Jalan Sultan Ismail, Jalan Bukit Bintang and its vicinity before returning to Jalan Berhala at midnight.
In Penang thousands of devotees turned up at 6.30pm for a three-hour float and candlelight procession in conjunction with Wesak Day.
The devotees held joss sticks and sang hymns along the way lending a tranquil beauty to the annual celebration.
This year, a total of 18 floats was produced by 34 Buddhist organisations to ply the 7km route from the Malaysian Buddhist Association at Jalan Burma and back. The floats passed through Jalan Pangkor, Jalan Kelawei, Pulau Tikus, Jalan Perak, Jalan Anson, Jalan Macalister, Lorong Madras and then returned to the association's grounds at Jalan Burma.
Earlier, devotees thronged Buddhist organisations and temples, including the Thai Buddhist Temple in Jalan Perak, the Mahindarama Buddhist Temple in Jalan Kampar and the Malaysian Buddhist Association in Jalan Burma, for religious offerings.
They also took part in rituals, such as bathing the statue of Buddha and chanting holy scriptures. Many devotees have also been on a strict vegetarian diet to cleanse themselves for the occasion.
On Friday night, devotees lit 2,553 lotus shaped candles at the Manhindarama Buddhist Temple that reflected Buddhist year as calculated from the year 543BC, which is the year Buddha died.