Swindlers in saffron robes cashing in on people's generosity
by TAN KARR WEI, The Star, June 4, 2009
"Bogus monks" becoming a big menace in the streets of Malaysia
Kuala Lumpur, Malaysia -- BOGUS monks are roaming the streets of the Klang Valley, cashing in on the generosity of the people to make money.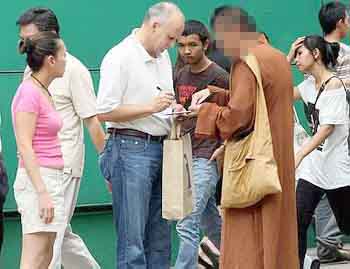 << Charming: A man clad in a monk's attire selling amulets to a tourist in Bukit Bintang.
These imposters can be seen going from table to table in restaurants in the commercial areas, and even approaching people at the public car parks.
According to Buddhist Chief High Priest of Malaysia, Venerable K. Sri Shammaratana, monks who begged for money are violating the Buddhist code of ethics. The alms bowl is strictly meant for food.
According to the owner of a coffee shop in Damansara Utama, who asked not to be identified, the imposters would make their rounds at the various eating places in the commercial area at various time.
"You won't see them at a specific time. Sometimes they come at about 10am, sometimes they target the lunch crowd," she said.
There were also reports of such monks stationing themselves at the morning and night markets.
StarMetro also observed the movements of these spurious monks at the busy Bukit Bintang area on a Saturday afternoon.
A man wearing an ankle-length saffron robe with a cloth bag on one shoulder was seen taking a breather outside the Lot 10 shopping centre when a security guard motioned him to move away.
He then walked across Jalan Bukit Bintang and stopped at the junction just in front of the Pavilion Kuala Lumpur.
The man, in his mid-30s, targeted only foreign tourists and would not even bother to stop locals who walked past him.
He seemed to be holding a small amulet in one hand and trying to sell it to the foreigners.
After about 20 minutes, he then walked back to the area in front of Lot 10 to sit down for a short rest.