Tragic end for Malaysian Buddhist aid volunteers
The Buddhist Channel, Aug 27, 2007
Trip to Ladakh, India to assist a Buddhist center ends with 3 deaths, 1 missing and 2 seriously injured
Kuala Lumpur, Malaysia -- In what was to be a visit to a meditation center in Ladakh, India turned out to be a tragic event for a group of devoted Buddhists from Malaysia.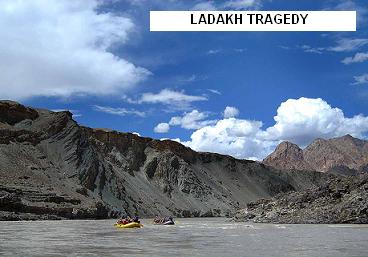 On Tuesday, August 25, an accident in car journey from Leh to Timongsang claimed the lives of three devotees after the vehicle they were traveling in ran off the road and plunged down a steep ravine into the Indus river.
The deceased Malaysians were identified as Angie Lee, 52, Lee Ah Yem, 59, and one female passenger Tan Guat Gnoh, 54. Another person, Renee Lim Bee Hong, 47, and the local cab driver Tsering Stobdan were seriously injured while Cheong Swee Chun, 42 is still missing at press time.
The visiting entourage was part of a group of Malaysian devotees visiting Ladakh from August 21-31 to provide aid to the Ladakhi people through the Ladakh Maha Bodhi Society headed by Ven. Sanghasena. Ladakh itself is a district in Kashmir, Northern India, nestled in the Himalayan Range. It borders Tibet to the East and Pakistan to the West. The region is very remote, hilly and rugged. The people there are among the poorest economically in India.
The rest of the group, which consists of 30 participants who were traveling in other vehicles, are confirmed safe.
Great loss
The tragic accident has taken the lives of some of the most devout Buddhist volunteers.
Tan Guat Gnoh, or better known as GG Tan was one of the most fervent supporters of Dharma based activities in Kuala Lumpur. She frequently helped in the organizing of many Dhamma propagation programmes, namely the printing of CDs and books, arranging talks, WACANA Conference, and fund-raising assistance the poor in India and elsewhere.
Julie Ang was a tour organizer for Nalanda Buddhist Institute on many occasions, besides being the hostess for groups of visiting monks and nuns to Malaysia who are guests of the Institute.
Lee Ah Yem was a devout member of the Buddhist community and was active in the Sentul Temple and Maha Karuna Buddhist Society.
The bodies of these three devotees are being arranged to be brought back from New Delhi, India. They are expected to arrive Kuala Lumpur on August 27.
Special puja sessions
To commenmorate the tragic demise of the devotees, several Buddhist organizations will be having puja sessions in the next few days.
Buddhist Gem Fellowship will hold a special Puja session on August 26.
Nalanda Buddhist Institue will be organizing a two day of Memorial Dana on August 30 and 31 August.
Both the puja sessions are to commemorate and transfer merits to the deceased.