New Nalanda Centre to cater for 150,000 residents
The Buddhist Channel, Dec 5, 2009
New Buddhist Centre benefits communities in Seri Kembangan and beyond
Seri Kembangan, Selangor (Malaysia) -- Two weeks prior to the Officiating Ceremony of Nalanda Centre, Nalanda Buddhist Society conducted a premiere media tour to announce the completion of its much anticipated new education centre.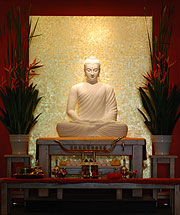 "We are overjoyed at the prospects of offering a more conducive practice and learning environment for the Malaysian Buddhist community," quipped Mr. Ee Kim Swee, the President of Nalanda Buddhist Society.
Touted as a leading Buddhist organization in the country, Nalanda Buddhist Society (Nalanda) is well known amongst the English-speaking Buddhist community in Malaysia as well as in neighbouring countries such as Thailand, Indonesia, Singapore, and Sri Lanka. Nalanda is recognized for its excellence in keeping the authentic Buddhist traditions taken from its root place in India and Sri Lanka, as well as keeping the Dhamma alive through its high standard of Buddhist Studies and effective Dhamma propagation.
Sprouting from a small community of committed young Buddhist volunteers operating from a shoplot, Nalanda today announced the addition of the 4-storery Nalanda Centre to its expanding facilities. Nalanda's founder and advisor, Dr. Tan Ho Soon, believes in quality rather than mere quantity when it comes to Dhamma propagation. He stresses that every room in the centre must be fully utilized at all times, and well-equipped to facilitate learning and practice.
It is for this reason that Nalanda Centre was conceptualized as the number of devotees and activities have grown beyond the capacity of the Society's facilities. Furthermore, Nalanda expects to serve a larger community especially the Chinese-speaking Buddhist residents within Seri Kembangan and its environs.
"There are currently only a handful of Buddhist establishments in the Seri Kembangan township, whereas the number of residents have increased to more than 150,000. Therefore, we see a pertinent need to have a bigger and better facility to serve the spiritual needs of devotees," said Dr. Tan.
Following the acquisition of the four-storey building in 2007, Nalanda faced a challenging task of raising RM2.3 million to facilitate its rebuilding and renovation. The Society had earlier organized a Walkathon, a concert in collaboration with Dama Orchestra, and the Pesta Nalanda Food & Fun Fair to raise funds for the building project.
The new Centre will have four levels. Level 1 houses a shrine hall for religious activities and ceremonies. The shrine hall is an adaptation of the ancient Srivijayan-era temple architecture and is cleverly dabbed with many hidden Buddhist symbolisms. Zen-inspired office space, reception area and guest room fill Level 2. Level 3 is equipped with a spacious seminar hall, a pavilion, and training room, while Level 4 is used for exhibitions and meditation.
Unlike many Buddhist establishments in the country, Nalanda Centre adopted the Srivijayan decorative motives for its interiors. To this Dr. Tan explained, "Nalanda has always aimed to retain the Buddha's original teachings along with promoting Buddhist arts and culture. Applying the Srivijayan design help to inculcate appreciation for and understanding of Buddhist arts and culture in Malaysian Buddhists, particularly the younger generations."
Srivijaya was a Buddhist empire that reigned over much of South East Asia in the 7th to 11th Century. Its dominions then included Langkasuka and Bujang Valley in Kedah.

"Our decision to adopt the authentic Buddhist design motives for Nalanda Centre seems to have gone down well with devotees as many commented that the ambience of the Shrine Hall created a feeling of peace and calmness in them," added Ee.
Despite the emphasis on traditional interior design, Nalanda Centre is built for practicality to serve the needs of the modern society. It will serve as a congregation place for Buddhists to perform spiritual practices, participate in social and community services, engage in Dhamma learning and discussion, as well as provide leadership and management training. The new centre will also boast of a well-stocked library with more than 5,000 titles of Buddhist literature. The library will serve as an important referral centre for Buddhist Studies in Malaysia.
Nalanda is organizing an Officiating Ceremony for the new centre on 11 December 2009 from 7pm to 10pm. Open invitation is extended to the general public to participate in this auspicious occasion officiated by the venerable monks and nuns of the Buddhist community. Visitors are also invited join the special guided tours of the Nalanda Centre. Hidden Buddhist symbolisms will be unveiled during these guided tours. For more information, please contact the Nalanda Secretariat at +6012.297.7479 and +6012.295.5245, or e-mail info@nalanda.org.my.