Charity knows no bounds
By RACHAEL KAM, The Star, January 31, 2010
Kuala Lumpur, Malaysia -- The Tzu-Chi Foundation which was founded by a nun in Taiwan has undergone a miraculous growth. It now has 10 million members in 47 countries who do charity work around the world and save the environment in the process.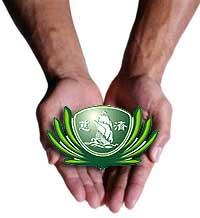 As a charity organisation, the growth of the Tzu-Chi Foundation is miraculous. Started off in 1966 by a Buddhist nun with a group of 30 housewives doing voluntary work, the Taiwan-based organisation today has 10 million members worldwide with branches in 47 countries.
The driving force behind the phenomenal expansion is perhaps its motto: "Do good deeds, say good words and think good thoughts – with action".
Its members, among them many Malaysians, can be distinguished by their navy blue shirts and white trousers. They believe in walking the talk and feel that it is better to go around the world once doing charity work than chanting a thousand times.
Tan Chee Wei, Tzu-Chi's administration head in Kuala Lumpur, says members of the group are active in international relief activities, helping victims regardless of their race, religion and nationality.
Long-term assistance
Besides giving immediate aid in the aftermath of a disaster, Tzu-Chi volunteers also provide mid-term and long-term assistance such as rebuilding homes for survivors.
"We believe in being united in difficult times," Tan says, adding that this was the wish of Tzu-Chi's founder Dharma Master Cheng Yen.
The foundation that started in Hualien, Taiwan, with volunteers saving some money each day for charity, is today one of the three largest Buddhist organisations in Taiwan. The other two are Fo Guang Shan and Dharma Drum Mountain.
It started off doing simple charity work in the neighbourhood but has, since 1993, expanded into eight areas covering medical aid, education, culture, international relief, bone marrow donation, environmental protection and community voluntary work on a global basis.
Tan cites the 7.0 magnitude earthquake that wrecked the Haitian capital on Jan 12 as an example.
After the killer quake flattened Port-Au-Prince, Tzu-Chi immediately sent volunteers from its US branch to assess the situation and make preparations for relief work. Subsequently, it delivered 50,000 blankets, food, clothes, water dispensers, medical stuff and equipment to the devastated city.
The Kuala Lumpur branch also started a fund-raising campaign on Jan 16 to raise money for the survivors, Tan says.
"We will work out mid-term and long-term aid programmes in the aftermath of the disaster and help to rebuild the society," he says, adding that this will include setting up temporary hospitals and schools in Port-Au-Prince.
Tzu-Chi has a strong team of volunteers comprising architects, engineers, doctors and medical officers to see to the success of its long-term plans, Tan says.
"Some architects and engineers have even stayed in afflicted places for two years after a disaster to ensure that the rebuilding of hospitals, schools and houses is completed."
Under the foundation is the Tzu-Chi International Medical Association (Tima), which was established in 1996 and now has 58 branches in 11 countries. It has more than 7,000 medical volunteers and has been providing free medical services in 39 countries.
In 1993, Tzu-Chi started a marrow donor registry called Buddhist Tzu Chi Stem Cell Centre. It has handled over 1,801 marrow transplants in 27 countries.
Currently, Tzu-Chi's medical care network has six hospitals in Taiwan and runs a system of free mobile clinics around the world.
"Basically, we provide food, clothes, material necessities, medical care and spiritual consolation for disaster victims, the sick, and elderly," Tan explains.
Tzu-Chi volunteers also produce special food products and recycled blankets under another arm, the Tzu-Chi International Humanitarian Aids Association (Tiha) whose membership comprises manufacturers.
This came about when the founder realised that cooking for survivors after a disaster was a big problem and the food manufacturers came up with products like instant rice and noodles that can be prepared even with cold water.
Other than instant food, they also manufacture special blankets made from recycled mineral water bottles. The blankets are light and can be transported easily.
In Malaysia, says Tan, their most successful project is their recycling programme aimed at raising funds as well as public awareness of environmental protection. The programme started in 1992 and today has 50 centres nationwide, and 80 mobile collection points in Kuala Lumpur and 55 in Klang.
"We raise an average of RM40,000 monthly in Kuala Lumpur alone," he says.
Mobile healthcare
The foundation also runs mobile clinics every second and fourth Sunday nationwide for some 500 poor families and refugees who are registered with them. Free clinics are open every Sunday in Malacca, Klang, Kuala Lumpur and Penang. Plans are afoot to open these free clinics Monday to Friday from March, Tan says. They are accessible to patients of charity homes, beggars and disabled people.
Tan says Tzu-Chi also operates 10 cafe-cum-bookshops nationwide and they organise charitable events regularly. It has also been running learning centres in Penang, Kuala Lumpur, Klang and Malacca to promote calligraphy, cooking, tea ceremony and other cultural activities.
Indeed, Tzu-Chi has branched out to embrace almost every aspect of life for the benefit of its members who comprise not only Buddhists but people of other religions as well.
"We are not promoting religion but just doing charity for people all over the world," stresses Tan.
In Malaysia, it has 300,000 donating members of whom some 10% are active members.