Malaysian PM, Wife To Visit Buddhist Maha Vihara Temple On Wesak Day
Bernama, May 16, 2010
KUALA LUMPUR, Malaysia -- Prime Minister Datuk Seri Najib Tun Razak is scheduled to attend celebrations to mark this year's Wesak Day, which falls on May 28, at the Buddhist Maha Vihara Temple in Brickfields here.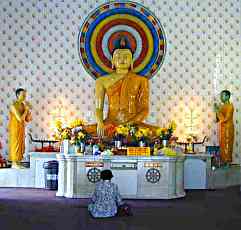 Najib is expected to arrive at 9.30am with his wife, Datin Seri Rosmah Mansor, Chief High Priest of Malaysia, The Most Ven. K. Sri Dhammaratana Nayaka Maha Thera, said on Sunday.
He said the invitation was mooted last year when, at a function, the prime minister expressed his intention to attend this year's celebration.
"I sent him an official invitation recently. We are very delighted and excited that he has kept his promise to come and join us in this celebration," he told reporters after attending the temple's "Caring and Sharing 2010" programme launched by Deputy Information Communication and Culture Minister Senator Heng Seai Kie here on Sunday.
Najib will be the third prime minister, after Tunku Abdul Rahman and Tun Abdullah Ahmad Badawi, to visit the century-old Buddhist temple.
Sri Dhammaratana said that among the events lined up for this year's Wesak Day were blood and organ donation campaigns, prayers sessions as well as a candle-light procession from the temple to the city centre and back in the evening.
Meanwhile, Heng urged Malaysians from all walks of life to be more compassionate in helping the less fortunate beyond race, culture and religion in line with the spirit of 1Malaysia.
"We need to revive the thought of giving and sharing in everyone of us as there are many out there who are in need of our help," she said.
Earlier, Sri Lanka's High Commissioner to Malaysia Dr D.D. Ranasinghe donated four corneas to the temple to be handed over to the Tun Hussein Onn Eye Hospital for the use of visually impaired people.
The caring and sharing annual event has been organised by the temple for the past 20 years. This year saw some 1,000 less fortunate inmates from 27 homes in the peninsula receive contributions in cash and kind.