Grand Guan Yin parade in Penang
By CHRISTINA CHIN, The Star, August 2, 2010
Penang, Malaysia -- HANDS clasped in prayer, thousands of Avalokitesvara (Guan Yin) Bodhisattva devotees joined a Goddess of Mercy float procession which passed through Bayan Baru and Bayan Lepas in Penang.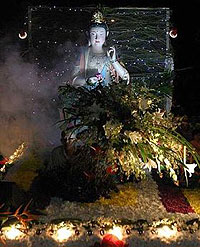 << Star attraction: The main float bathed in an aura of lights.
The three-hour procession last Saturday was held in conjunction with the Than Hsiang Temple Buddhist Welfare Association's 25th anniversary and the enlightenment anniversary of the goddess.
It was the first time such a procession was held in Penang's southwest district.
Devotees of all ages, carrying lanterns, flags and fresh flowers, followed the 10 floats on a 6.2km procession which started from the temple and passed through Jalan Sultan Azlan Shah, Jalan Mahsuri, Jalan Tun Dr Awang and Jalan Tengah before returning to the temple.
A woman, who did not want to be named, said she came all the way from Butterworth on the mainland to pray.
"I brought my 80-year-old mother with me but her legs are not strong enough to walk with us.
"She will wait at the temple until the float returns," she said, adding that devotees of the goddess carried fresh flowers of yellow and white to represent "the impermanence of life".
"The lanterns are symbolic of light and brightness," she explained.
Bamboo leaves, lotus flowers and a statue of the goddess overlooking a padi field, complete with little figurines of villagers working, buffalos and horses, were among the float designs.
A volunteer from the Air Itam Beow Hiang Lin Temple said the float with the goddess overlooking the people and animals represented Guan Yin looking after everyone.
While the floats were beautiful in their simplicity, the lanterns were a more interesting affair.
Some lantern designs spotted were of plastic motorcars and plastic oil lamps. The float procession was a culmination of a week-long celebration at the Than Hsiang Temple. Among the activities held were talks on dharma and Guan Yin.
The temple also launched its Guan Yin Bodhisattva commemorative gold medallion to raise funds for the temple's welfare and educational activities.
For details, log on to www.thanhsiang.org.