Collecting Buddhist stamps
Translated by LIM LIY EE, Sin Chew Daily, July 31, 2010
Kuala Lumpur, Malaysia -- A Buddhist and stamps collector has been integrating his faith with his interest as he has a special preference for collecting stamps with Buddhism theme.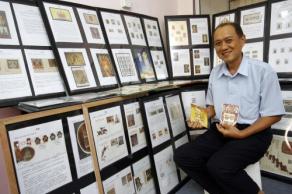 << Shu Zhonghan had organized two stamp exhibitions to introduce Buddhist stamps to the public. (Photo courtesy: Sin Chew Daily)
Shu Zhonghan has sorted out thousands of the stamps he collected according to the themes such as the Four Great Bodhisattvas, the Four Great Buddhist Mountains, Buddhist figures and the biography of Gautama Buddha. Each of the theme has lots of stories to tell.
The stamps he collected are from around the world such as China, Japan, Korea, India, Thailand and even Muslim countries which possess different Buddhist cultures.
To enhance the value of appreciation of the stamps, he has put them with envelopes, pictures and postcards as embellishments or explanatory notes. It has at the same time enhanced the value of artistic for his collection.
He does not only collect them in stamp albums but he also shows them to the public through exhibitions .He also takes the opportunity to tell his guests Buddhist stories.
Shu has been a Buddhist since young and he started collecting stamps since teen age. At that time, his attention was drawn by a Buddhist stamp on an envelope sent by his relative from China.
At that time, stamp collecting experts suggested that it would be an advantage to collect stamps based on a particular theme instead of collecting a wide-variety of stamps. Therefore he has focused on only Buddhist stamps since then as he is a Buddhist.
He indicated that among thousands of the stamps, it was indeed hard to categorize them. However, with the assistance of his three daughters, he was able to get relevant information for each of the theme.
According to him, as he is a preacher, he had organized two stamp exhibitions to promote Buddhism to the public and they received great responses from the public.
Nevertheless, he stressed that according to the national standards, there were some rules to be followed while collecting stamps such as a stamp must have more pictures and less text and three stories to be told on a piece of paper. He said that his collection has not met the requirements yet.
Therefore, he is currently striving to upgrade his collection to the international standard with the guidance of Malaysia Stamps Association and the assistance of his friends who lend him their stamp collections for reference.
He is also planning to translate the theme of his stamps into English as he would like to share the Buddhist stamps with more people at his international stamp exhibitions in the future.