Devotees upset over temple
By Yen Feng, The Straits Times, Feb 1, 2009
Singapore -- THERE were tears and protests when over 100 people turned up to claim their ancestral tablets from the San Bao Jing She temple yesterday.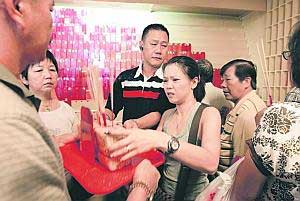 << Devotees of San Bao Jing She temple offering their ancestors prayers before removing the ancestral tablets. Over 100 people turned up to do so yesterday. -- ST PHOTO: TERENCE TAN
The site of the temple in Sims Avenue near Lorong 39, Geylang, was repossessed a week ago after its bankrupt abbot failed to pay $55,640 in owed rent.
Many families found out only when they they arrived during the Chinese New Year holidays to offer prayers for their dead relatives.
The temple was locked and most of its Buddha statues had been removed. A notice taped to the door advised people to be there yesterday, from 10am to 2pm, to collect the over 400 ancestral tablets.
Yesterday, the crowd began building at 9am. Emotions ran high even before the locks came off. Voices were raised as many questioned the temple's management of their donations.
Mr Lawrence Neo, 43, said he paid $2,500 to the temple, also known as the Triple Gems Buddhist Society, to put up his father's tablet in 1996. He was told then by the temple's abbot Venerable Cheng Wei that it was a one-time fee.
With San Bao Jing She now closed, he has to decide if he will take the tablet home, or cough up $800 to put it at Budi Centre, a Buddhist temple in Lorong 4 Geylang.
'How did this happen?' he asked a group of devotees who had gathered around him. 'Who is responsible for the temple closing? Where did the money go?'
Another devotee, Mr Liang Rong, 60, became agitated when he was told that Venerable Cheng Wei would not be present at the temple.
'Where is he?' he asked Venerable Hui Guang, the abbot of Budi Centre. 'This is a serious matter. This is our ancestors we're talking about. We deserve an explanation in person.'
Ancestral veneration is a centuries-old Chinese-Buddhist custom. Living members of the family pray to provide those who have died a sense of well-being in the after-life.
Efforts yesterday by The Sunday Times to contact Venerable Cheng Wei were unsuccessful, though in a Straits Times report last Wednesday, he blamed the economic downturn for insufficient donations to fund the temple.
He added he had been looking since October last year to move the temple to a smaller venue, but needed more time - a request turned down by his landlord, YHI Holdings. He told Shin Min Daily the next day he had not received any notice to vacate the premises so he was 'caught off-guard' when the premises was taken back on Jan 24, two days shy of Chinese New Year.
Court documents and lawyers' letters obtained by The Sunday Times, however, told a different story. Venerable Cheng Wei, or Reverend Choo Bou Hey, was declared bankrupt in July last year by the High Court for owing an unspecified debt to Orix Capital, a motor company.
Letters dating back to 2006 revealed a pattern of late rent payments. In 2007, the temple was closed for two weeks when he defaulted on rent for five months. He eventually found a sponsor to foot the bill.
He received by registered mail three letters from the landlord - dated Oct 6, Dec 31 and Jan 21 - to vacate the place. The last letter stated that the landlord would repossess the site at 4pm on Jan 23.
Yesterday, a number of devotees were in tears as they left with their family ancestral tablets. Some carried them in red baskets to their cars; others cradled theirs away under the shade of an umbrella.
And while a few were reluctant to pay the $800 bill to the Budi Centre, Mr Zheng Cai Fu, 47, shelled out more - $8,600 - for a District 9 spot at the Singapore Buddhist Lodge in Kim Yam Road.
'With the economy the way it is, who knows which temple will go next?' he said.