Not guilty, says monk
by Zul Othman, Today Online, Apr 3, 2009
Monk allegedly disguised $50,000 paid to aide asloan to cultural centre

Singapore -- NINE months after his arrest made headlines, Singapore's most famous abbot, Shi Ming Yi (picture), walked into the Subordinate Courts yesterday for his long awaited trial.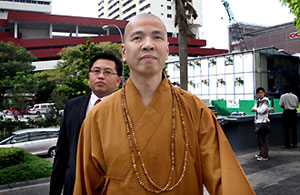 Flanked by black-suited lawyers and dressed in his usual saffron robes, the former Ren Ci chief executive strode into Court 19, perhaps eager that his day in court had come at last.
Sitting in the dock with co-accused Raymond Yeung as the charges were read, Ming Yi — whose real name is Goh Kah Heng — looked pensive.
But he replied with confidence: "I would like to claim trial".
The prosecution — led by Deputy Public Prosecutor (DPP) Jaswant Singh — presented details of the case, saying it will show that the monk gave $50,000 of Ren Ci's money to his former personal executive Yeung on May 17, 2004.
The money was supposedly a loan for the renovation of Yeung's friend's flat in Hong Kong. To hide this loan, Ming Yi supposedly conspired with Yeung to categorise the payout as a loan to Mandala Buddhist Cultural Centre, a company selling Buddhist artifacts which the monk had a share in.
The loan was repaid in 2007.
The prosecution said it had evidence to prove that at the time of the offence, Yeung — a 34-year-old Australian national holding Singapore permanent residency — had not been able to obtain an employment pass and thus could not have been legally employed by Ren Ci.
When he was arrested last July, the 48-year-old Ming Yi — the founder of Ren Ci Hospital and Medicare Centre — was slapped with 10 counts of defrauding the charity, forgery and helping to falsify its accounts, among others.
He was suspended from his duties at the hospital as well as five other Buddhist temples and charities.
But yesterday, the prosecution said it will proceed with four charges — providing false or misleading information to the Commissioner of Charities, plotting to falsify a payment voucher and embezzling of Ren Ci funds — while the others will be stood down.
Yeung faces two charges, including one of helping Ming Yi forge a Ren Ci document.
Taking the stand, Ms Lynda Soong, a director with the Ministry of Health's (MOH) community partnership and development unit, said her ministry began looking into the affairs of the charity sometime in July 2006, finding lapses in Ren Ci's corporate governance and internal controls.
"Generally, weaknesses were alsospotted in other charities, but the ones spotted in Ren Ci gave MOH particular concern," she said.
As a result, the ministry appointed auditors Ernst and Young to do an "in depth review" in October 2006.
Ren Ci was the second largest charity under the purview of the ministry.
Mr Ngan Wan-Sing, an Ernst and Young partner who led the inquiry, also testified yesterday.
Senior Counsel Andre Yeap, defending Ming Yi, argued that the auditors might not have done a thorough job when checking Ren Ci and Mandala's books. He said the $50,000 was a loan from Ren Ci to Mandala and was reflected in the debtor's confirmation letters that Mandala had given to Ren Ci.
But Mr Ngan said there were reasons why they did not ask for the verification letters: The amounts in both books tallied and that Mandala's accounts were already audited and verified.
"Since both parties are related, the reliability (of the debtor confirmation) would not be as reliable as third parties," he added. "Shi Min Yi was involved in Mandala and he is also CEO of Ren Ci".
The answer did not sit well with the Senior Counsel.
"Life, liberty and freedom are at stake here," said Mr Yeap. "Shouldn't the level of diligence be the same or higher as the case of normal audits?"
The trial comes after the monk tried unsuccessfully last month to have the case transferred to a higher court for fear of an unfair trial. Mr Yeap had then argued that Mr Tan Siong Thye, the former head of the Commercial Affairs Department who had investigated Ming Yi, was now the Subordinate Courts' top judge. This would prejudice the case against his client, added the lawyer.
The trial continues.