High-living Singaporean monk faces jail for fraud
AFP, Oct 9, 2009
SINGAPORE -- A high-living Buddhist monk who ran a multimillion-dollar medical charity in Singapore is facing up to seven years in jail after being convicted of fraud, court officials said Thursday.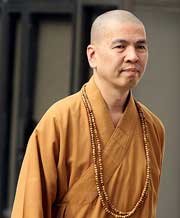 A trial court on Wednesday found Shi Ming Yi, 47, guilty of conspiring with his personal aide, Raymond Yeung, 34, to cheat the Ren Ci charity of 50,000 Singapore dollars (36,000 dollars).
"Though Shi Ming Yi was given many opportunities to come clean when his statements were recorded, it is evident that he did not do so and moved from one story to another," said District Judge Toh Yung Cheong, who will hand down the sentence in November.
"This suggested that he had a guilty mind and was trying to hide some wrongdoing," he added in a written judgement.
Evidence produced by the prosecution during the 21-day trial showed Shi and Yeung conspired to cheat the charity, which was founded by the monk in 1994 and still provides subsidised medical care to elderly patients.
Yeung is a Hong Kong-born Australian citizen who befriended the monk in 2000 and moved to Singapore to work with the charity.
Shi, who was chief executive of Ren Ci when the crime was committed in 2004, made an unauthorised loan of 50,000 Singapore dollars from the charity's coffers to Yeung, who used the money to pay for a friend's home renovations in Hong Kong.
They tried to cover up their misdeed by saying the money was loaned to a shop affiliated with the charity, but external auditors found this to be untrue.
Shi was a highly respected public figure in Singapore for his charitable work until the trial exposed his lavish lifestyle, including ownership of upmarket properties in Singapore and Australia.
He also bought a horse in Australia to keep as a pet and indulged in several luxury cars.
"These purchases suggested that while Shi Ming Yi may have worked hard for Ren Ci, his sacrifices were not that great since he appeared to have sufficient money left over to enjoy a high standard of living," said the judge.