Buddhist tattoos gain popularity in Singapore
By Philip Lim, AFP, 19 Feb 2010
Singapore -- When Ben Loke wanted to boost his financial prospects, he approached neither his banker nor his broker.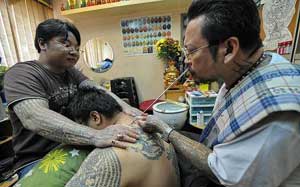 << A sak yant master at work in Singapore. Photo: AFP/ROSLAN RAHMAN

Instead, the 35-year-old company executive asked a professional tattooist to ink on his back a sak yant religious symbol, which he hoped would bring him wealth and happiness.
"I'm a Buddhist, and the scriptures that are being tattooed on my back will give me some protection," he said as he prepared to go under a needle wielded by a visiting Thai expert.

The sak yant form of tattooing originated in Thailand and is gaining popularity in Singapore, a predominantly ethnic Chinese city-state with a strong Buddhist and Taoist tradition.
Sak yant tattoos, mainly inscriptions of religious texts and animals as well as deity figures, are believed by Buddhists to bring good fortune, courage and self-confidence.
It is Loke's second sak yant tattoo and sits beneath a dragon surrounded by lines of Buddhist text.
Tattoos have come a long way in Singapore. Once associated with gangsters, they are now widely used as expressions of individuality, fashion statements or requests for divine assistance.
Willie Heng, sales executive of Fo Guang Hang, a company specialising in sak yant tattooing, welcomed the growing acceptance of the practice.
"Sak yant is now widely embraced by the general population because of people's need for a form of spiritual support, aided by the social acceptance of tattoos," he said at a recent tattoo convention in Singapore.
More than 300 tattoo artists from around the world, including Chris Garver of the hit television series Miami Ink, attended the Singapore Tat2 Show 2010.
But it was Fo Guang Hang's tattoo specialist Ajahn Thong, 60, who drew one of the largest crowds.
Business was so good that Thong, a Thai sak yant "grandmaster" who flew to Singapore for the show, had to extend his stay after the event to attend to all his customers, Heng said.
While some get tattoos just for show, many of Fo Guang Hang's clients are businessmen looking to use the powers of sak yant to change their fortunes in the wake of the global recession, Heng said."They come for luck," he added.
Christopher Tan, 28, who owns sak yant tattoo shop Siam Ink, said he has had customers from diverse age groups and backgrounds."I got students, bankers, office ladies, PR girls, all kinds of job scope," he said, adding that the tattoos provide "spiritual support" in times of hardship.
"Singapore has a lot of Chinese Buddhists, and many of them believe in this," said Thailand's Thong.
Tattooists said Singapore also attracted believers from other countries who fly in for sak yant tattoos.
Badr Fyrkree, a banker and amateur muay Thai boxing practitioner from the United Arab Emirates, travelled to Singapore specially to have two tattoos inked onto the back of his hands by Thong.
"I got a power punch and a speed tattoo, and it's spiritually based to help you not just with your fighting, but with your living," he said.