Convicted Buddhist monk Ming Yi's jail sentence reduced by 4 months
Temasek review, May 31, 2010
Singapore -- CONVICTED Buddhist monk Ming Yi's track record of performing death-defying stunts to raise funds for Ren Ci Hospital has earned him a reduction in his jail term for his role in an unauthorised $50,000 loan to his former aide.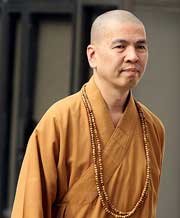 The High Court yesterday cut his 10-month jail term to six months upon appeal; his term is now shorter than that of his former aide Raymond Yeung, whose nine-month sentence was upheld.
Both men started serving their sentences immediately.
Ming Yi, 48, and Yeung, 35, were convicted in a district court last October on charges that included falsifying accounts and misappropriating funds after the unauthorised loan was made from the charity's coffers in May 2004.
Both appealed last month against their convictions and sentences.
Yesterday, Justice Tay Yong Kwang upheld the lower court's decision on their convictions and on Yeung's sentence, but allowed Ming Yi's appeal.
Justice Tay said he accepted that misuse of funds in a charitable organisation was a serious offence and the amount involved in this case was not small.
However, he noted, it was public knowledge that Ming Yi had risked life and limb in his much publicised fund-raising efforts.
Saying it was unfair and unkind for sceptics to brush these off as manifestations of an egotistic, publicity-seeking man, the judge asked: 'How many among us are willing to undertake those risks to satisfy our egos?
'In my opinion, one wrongdoing does not have to be so overwhelming that the many good deeds are completely forgotten and interred with the bones.'
His line was drawn from William Shakespeare's play Julius Caesar, in which Mark Antony said at the emperor's death: 'The evil that men do lives after them; the good is oft interred with their bones.'
Justice Tay, explaining why jail terms were warranted for the pair, said they did not admit their wrongdoing; instead, they tried to mislead investigators and repaid the $50,000 only after the authorities started looking into Ren Ci's books.
However, said the judge, the lower court had put too little weight on the monk's contribution to society, in particular the well-being of the poor and chronically ill in Ren Ci.
A sentence of 10 months' jail, higher than that handed down to Yeung – the recipient of the money who was just as involved in the episode and whose credentials were 'nowhere as sterling' – seemed manifestly excessive, he said.
In the same vein, Justice Tay dismissed Yeung's appeal against the sentence, on the grounds that it was the aide who had asked for the loan and benefited from the offence.
Although Yeung was convicted on two charges against Ming Yi's four, the judge noted that Yeung had actively tried to cover up the offence from start to end, and that his contribution to society 'paled in comparison' with Ming Yi's.
The pair were calm on hearing the verdict. Even with it being the eve of Vesak Day, Ming Yi did not request to defer his sentence.
His lawyer, Senior Counsel Andre Yeap, later told reporters that if the courts felt Ming Yi had done wrong, it was only right that he serve his sentence: 'There's no point in putting it off. What good does it serve? The sensible thing to do is to take responsibility. That is something he has always done.'
More than 20 of Ming Yi's supporters were in court yesterday. Some women quietly wiped away tears after the verdict.
History
Shi Ming Yi (birth name Goh Kah Heng; born 1962) is a Buddhist monk from Singapore, who served as the abbot of Foo Hai Chan Monastery prior to his conviction.
In September 1994, Foo Hai Ch'an Monastery, under the leadership of Ming Yi, established the 175-bed Ren Ci Hospital and Medicare Centre for the poor and needy chronically ill patients.
On October 7, 2009, Ming Yi was convicted of four charges of conspiracy, misuse of funds and orgery.
(See http://www.straitstimes.com/Breaking%2BNews/Singapore/Story/STIStory_439198.html)
It was revealed in the court that Ming Yi bought luxury cars, race horses, country club membership in Perth, Western Australia and lived in lavish lifestyle, an unusual trait amongst Buddhist monks.