More Moral Integrity Please
by Vajrakumara, The Buddhist Channel, Dec 6, 2010
Singapore -- A 'monk' who is an 'abbot' made grave mistakes. He has yet to express clear and open repentance for his multiple misgivings, even after being jailed. Most Buddhists are enraged at why the local Buddhist federation is not disciplining him - e.g. by defrocking him or demoting his monastic status.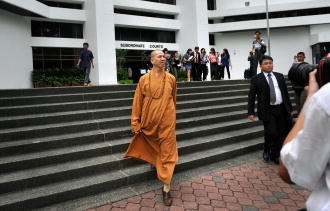 Some Buddhists support him, saying he had paid his dues. But how about paying the Buddhist community affected by his shamelessness with a sincere apology in word and deed?
No, he agrees to attend an extravagant $200,000 dinner to 'honour' him by his devotees instead, when the money can go to the charity whose trust he seriously damaged. What is worth honouring anyway? The senior monks, including the one who ordained him refuse to comment. This is the summary of the situation so far.
While the 'monk' seems to lack the moral integrity to apologise, it is uncertain that the federation has power to trial the 'monk' because of it is not truly a central Buddhist body authorised by the Buddhist community to look after all matters of monastic discipline. In fact, it is questionable if the federation has enough moral integrity to judge him too.
For example, please see these articles on the serious mishandling of a recent international incident - 'Singapore's Minster did NOT Meet the Panchen Lama' (http://www.buddhistchannel.tv/index.php?id=22,9581,0,0,1,0) and 'Please Do Not Mix Religion & Politics' (http://www.buddhistchannel.tv/index.php?id=22,9582,0,0,1,0).
The federation itself has not yet apologised on this matter - of endorsing a puppet 'monk', which indirectly supports keeping the real one a political prisoner.
Back to the case of the unrepentant 'monk', it seems that all the key monks involved are at fault to some extent. Correctional action is wanting on all sides. What is the protagonist doing, by not apologising?
What is his teacher doing, by not openly demanding him to apologise publicly? What are his devotees doing, by feeding the 'monk' with undeserved honour? What is the federation doing, by not pulling up its socks of respectability by doing what is right and needed? (If it cannot defrock or demote the 'monk', he should simply be publicly denounced - to shame him appropriately as a last resort - to wake him up.)
What are the other apathetic monastics and laypeople doing, by remaining silent on this? If Buddhists do not care for the integrity of their community, who will? We will only be a laughing stock to non-Buddhists. The Buddha is unlikely to smile at this.Related Articles (in chronological order):
Singapore Celebrity Monk Sentenced to 10 Months in Jail for Fraud
http://buddhistchannel.tv/index.php?id=57,8720,0,0,1,0
An Appeal to Drop the Appeal
http://www.buddhistchannel.tv/index.php?id=22,8733,0,0,1,0
Why the Appeal Against the Appeal
http://www.buddhistchannel.tv/index.php?id=22,8764,0,0,1,0
Not All Agree on Panel to Judge Mingyi
http://buddhistchannel.tv/index.php?id=57,9719,0,0,1,0