Man uses fake 'monk certificate' to work in Singapore
by Benson Ang, The New Paper, Feb 10, 2011
Using fake documents, a Chinese national managed to work in Singapore on the pretext of being a monk
Singapore -- For nine months, Mr Liu Bing worked as a monk at a Buddhist centre in Geylang.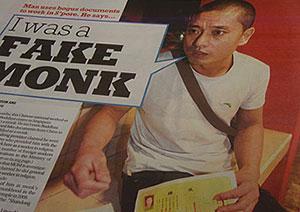 << A Chinese man's salary dispute with Budi Centre brought a secret of his to light. (Photo: The New Paper)
The 38-year-old from Shandong province claimed he went through an agent in China who provided him with the fake documents to get employment as a worker in religion.
Mr Liu said he did general cleaning work under the guise of a monk while working at the Budi Centre, which is currently being investigated by the Ministry of Manpower (MOM).
Paper trail
His counterfeit documents included a "certificate" with a photo of him in monk's robes, stating he was initiated into monkhood in the Shandong Weifang Foshan Buddhist Temple in 2008. It also bears the seal of the "Shandong Province Buddhists Association".
There was also an additional "document" allegedly issued by the Linqu Notary Public Office, in Shandong, stating that the embossing seal in the first certificate is authentic. Mr Liu also had English translations of the documents.
However, a closer look at the "certificate" shows that it could have been printed on ordinary paper using an inkjet printer. Also, a printed photo of another man showed underneath the passport-size photo of Mr Liu.
The photo of him in monk's robes appears to be the same one used in his passport, where he's seen dressed in ordinary clothes. Mr Liu told The New Paper that the agent had used a computer to "paste" his face onto someone else's body wearing the monk's robes.
"The agent told me that if I pretended to be a monk, I could make ,000 a month doing odd jobs in a Buddhist centre in Singapore. If I worked elsewhere in Singapore, I would earn only 0."
"I asked him if this was okay, and the agent assured me that foreign workers in Singapore used fake documents all the time," he said. The father of two children, aged 12 and two, added that he went along with the plan as the salary was tempting.
After arriving in Singapore
In July 2009, Mr Liu arrived at Changi Airport dressed in ordinary clothes, but he later changed into the monk's robes to look convincing when he passed through immigration.
He also started work at the Budi Centre that month. His job included cleaning the floors and learning to cook for worshippers. But he did not speak to the worshippers as he had no religion and knew nothing about Buddhist teachings.
During his work from 7 am to 7:30 pm daily, Mr Liu would wear a white T-shirt and grey trousers instead of the monk's robes. He expressed his discomfort in having to impersonate as a monk and claimed that it was like being "in prison". He could not leave the centre at night and "hated" wearing the robes as they were "too warm".
The fake documents came to light only after he got involved in a salary dispute with the centre.
Mr Liu said that during the first nine months, his monthly salary of 0 was paid to the agent as "agent fees". When he would have been entitled to his full salary, the centre dismissed him for no apparent reason.
He also alleged that the centre did not pay him for overtime work and for working on weekends and public holidays. He had approached the MOM regarding his salary dispute and after he revealed using fake documents, he was investigated.
After leaving the centre, he became a packer and was at the same time assisting MOM with investigations. He has since stopped work and said that he will be deported back to China on Saturday.
His words of caution
An MOM spokesman said that the ministry will investigate Mr Liu's claims that he was assigned general cleaning work within the temple by his employer even though he was employed as a religious worker.
By sharing his story, he wants to caution other foreign workers against using fake documents when applying for jobs. "Now I must return to China, and it'll be harder to support my family. It's not worth the trouble," he said.
Meanwhile, Budi Centre's abbot, Venerable Hui Kuan confirmed that Mr Liu used to work in the centre.
When queried on the fake documents, he said, "How are we to know if they real or fake? When he applied for the job, this is what we got." He declined to comment further.
On the other hand, the Singapore Buddhist Federation's secretary-general, Venerable Seck Kwang Phing, told the same paper that he was shocked to hear about the story and it was the first time he heard of a foreign worker posing as a monk.
However, he said that the federation will not be taking action against Budi Centre as it employed workers on its own and not through the federation. But, Venerable Seck added that temples and centres must stringently check the documents of potential employees.