Buddhist Faithful Mark Vesak
by Aidi Yursal & Vento Saudale, The Jakarta Globe, May 18, 2011
Jakarta, Indonesia -- Buddhist faithful across Indonesia turned out in large numbers on Tuesday to mark Vesak, a celebration of the birth, enlightenment and death of the Buddha.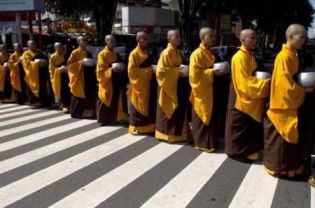 <<Buddhist monks collect alms in Magelang, Central Java to mark Vesak Day on Tuesday, which honors the birth, enlightenment and death of Buddha. (Reuters Photo)
The peak of the three-day-long event was observed at Buddhist temples nationwide, most prominently at Borobudur, the majestic eighth-century monument in Magelang, Central Java.
An estimated 15,000 worshipers took part in a procession from Mendut Temple to Pawon Temple and on to Borobudur on Tuesday morning, a 3-kilometer march led by monks from the Indonesian Buddhist Council (Walubi).
The worshipers carried with them torches lit from an eternal flame in Mrapen, Purwodadi district, and holy water from Umbul Jumprit source on the slopes of Mount Sindoro.
Vesak is held to commemorate the three great moments of the life of Gautama Buddha: his birth, nirvana and death. The fire symbolized the enlightenment of the Buddha, while the water symbolized his humility.
Once at Borobudur, the worshipers took part in a meditation ceremony where they were sprinkled with the holy water.
Central Java Police Chief Insp. Gen. Edward Aritonang said 1,200 officers had been assigned to provide security for the event, which proceeded peacefully.
He said the turnout for the celebration had been large because of the government's decision last Friday to make Monday a national holiday, thus creating a long weekend running through Tuesday.
Edward said the Vesak celebration at Borobudur was also expected to help boost tourism in the area, which was badly hit following the eruptions last October and November of the nearby Mount Merapi. The eruptions, the biggest at the volcano in a century, blanketted Borobudur with ash and forced its partial closure.
In Medan, North Sumatra, members of the city's large ethnic Chinese community flocked to temples for mass prayers and meditation.
A caretaker at the city's Borobudur Temple, who declined to be named, said two lengthy prayer sessions were held on Monday evening, followed by another on Tuesday morning and a ceremony to light candles.
Police personnel were posted outside all temples in anticipation of any threats or disruptions, but no incidents were reported.
In Bogor, around 1,500 people took part in mass prayers at Pandita Sabha Temple, where the theme of the prayers this year was a call for greater religious tolerance. Shunkun, the priest leading the ceremony there, said it was important to revive the sense of nationalism and solidarity among Indonesians.
"In these times, nationalism is fast fading as we grow more globalized," he said. "Only with big dreams and a big heart can we overcome the problems we face today. That goes for problems such as corruption and mob violence. We have to work together with all other Indonesians to develop an Indonesia that's the pride of the world."
He also said Vesak should be an opportunity for Buddhists to work together with others in their communities and to protect the environment.
Vesak, like Idul Fitri and Christmas, also marked a chance for inmates across the country to have part of their sentence reduced. Remissions are specific to inmates of each religion, and this year 10 Buddhists being held in prisons in Bali received the cuts.
Kristiadi, head of the Bali Justice and Human Rights Office, said the remissions this year varied in length from 15 days to a month.
He said the recipients included eight inmates at Denpasar Penitentiary, one at Singaraja Penitentiary and one at the Karangasem Juvenile Penitentiary.