Tracing the Buddhist path in Java, Indonesia
The Jakarta Post, May 13 2014
Jogjakarta, Indonesia -- The seventh to ninth centuries were the glory days of Buddhist teachings in the heart of Java.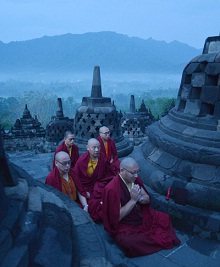 << Greeting the sunrise: Visiting Tibetan monks perform morning meditation at Borobudur Temple, East Java.
Up to the present, the ancestral heritage of the Indonesian nation was manifested in the magnificence of Borobudur Temple, Mendut Temple, Sewu Temple, Plaosan Temple and Kalasan Temple.
Many Buddhist temples are in a bad state of repair due to acts of vandalism as well as natural disasters. Nonetheless, the grandeur of the Buddhist religion in Java continues to attract visitors to the area. These archeological structures have survived a long history since the time of Indonesia's forefathers.
Although Buddhist houses of worship have generally been viewed as "dead monuments", some of the mighty structures still serve as venues for the Waisak (Buddhist Day of Enlightenment) ceremony, which marks the Buddha's birth and enlightenment. This year, Waisak falls on May 14 and 15 and celebrations will be held at Mendut and Borobudur temples.
Six monks from Tibet recently conducted a two-day survey of Buddhist temples in Yogyakarta and Central Java. "I'm deeply moved by the Buddhist splendor here. But I'm also very sad to witness some of the damage, such as that at Plaosan", said Biksu (Monk) Kenpo Gyurme Wangchen, who headed the small team.
According to Wangchen, Tibet has maintained long and close relations with Indonesia. Since the time of the Sriwijaya Kingdom in the sixth century, many Tibetan monks have had religious ties with the ruling kings and nobles.
"And I can feel how the great teachings of the Buddha were thriving here, leading to the establishment of this magnificent Borobudur," he added, gazing up at the hundreds of Buddhist statues and stupa adorning each level of Borobudur.