Buddhists pray for peace, tolerance in Indonesia
by Apriadi Gunawan, The Jakarta Post, November 19, 2016
Sumatra, Indonesia -- Hundreds of Buddhists in Medan, North Sumatra, held a joint prayer for peace and tolerance in Indonesia, amid rising religious tensions across the country.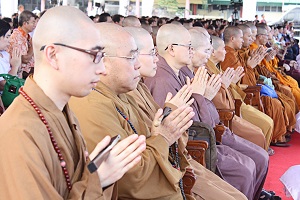 Around 15,000 followers of all Buddhist sects participated in the joint prayer held at Soewondo Air Force Base in Medan on Saturday. Dozens of Buddhist monks, House of Representatives members and local officials also participated in the event, which will continue on Sunday.
Religious Affairs Minister Lukman Hakim Saifuddin opened the joint prayer on Friday, which was marked by the release of hundreds of doves, which symbolize peace and harmony.
Lukman said the event was very noble, as Buddhists had prayed for peace and harmony in the country. "My presence in this event is not only to fulfil their invitation but the most the important thing is, I want to appreciate this very noble event," said Lukman, adding that hopefully, more joint prayers are held by Buddhists in Indonesia.
North Sumatra Governor Erry Nuradi also appreciated the Indonesian Buddhist followers' joint prayer, themed "For My Country, Indonesia". At the event, he added, all religious followers pleaded for protection from God the Almighty, with a hope that Indonesia could remain in a safe, peaceful condition so that all of its development agendas could run well.
Organizing committee head Sutrisno said that after joint prayers on Sunday, all Buddhists would participate in a blood donation event. "We are holding this event sincerely for peace and harmony in Indonesia."