Different faiths, same aim - to improve harmony
by DEVI ASMARANI, The Straits Times, Dec 7, 2004
YOGYAKARTA, Indonesia -- THEY came dressed in various garb that immediately gave away their faiths - from the saffron yellow robes of Buddhist monks to assorted types of Islamic and Jewish headgear.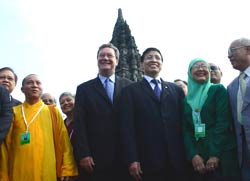 << Australian Foreign Minister Alexander Downer (Center-L) and Indonesian Foreign Minister Hasan Wirayuda (Center-R) in front of Prambanan temple in Klaten. (Adhi Perwira/AFP)
But the religious leaders at the inter-faith conference in this city have one thing in common: They came to talk about improving religious harmony.
A total of 124 delegates representing several faiths gathered yesterday to share their experiences and discuss ways to improve religious tolerance in their countries.
With so many religious leaders grouped together, the organisers slated 20 minutes to give a chance for representatives of different faiths to say their prayers in the opening ceremony.

The two-day event is sponsored by the Australian and Indonesian governments, and organised by Indonesia's second-largest Islamic body, Muhammadiyah.
The delegates came from 13 countries, including nine Asean members as well as Australia, New Zealand, Papua New Guinea and Timor Leste.
Ten Malaysian delegates who were expected to attend the event were notably absent. A Malaysian envoy from Jakarta acting as an observer said they could not come because of other engagements.
Most of the delegations comprised leaders of religious organisations and government representatives in related fields.
The host country was represented by 15 participants, including two from its Supreme Council for Confucianism.
The Philippine delegation comprised not only Catholic and Muslim representatives, but also a member of the indigenous Talaandig Tribe donning a brightly coloured traditional costume.
When the delegates arrived on Sunday, they were taken on a tour to the legendary eighth-century Buddhist temple of Borobudur and the smaller Mendut Temple just outside the city.
The following morning, two hours before the opening ceremony, they visited Prambanan, a Hindu temple built in the ninth century.
They were joined by Australian Foreign Minister Alexander Downer and Indonesian counterpart Hassan Wirayudha.
'The temples were amazing and a testimony to Indonesia's long history of religious diversity,' said Singapore's delegation leader, Minister of State for Community Development, Youth and Sports Yu-Foo Yee Shoon.