Hundreds of Buddhists to rally, pray to protest Buddha Bar
The Jakarta Post, March 5, 2009
Jakarta, Indonesia -- Hundreds of Buddhists plan to hold a prayer service in front of Buddha Bar in Central Jakarta on Thursday morning to protest the French franchise bar's management they regard has been inconsiderate in displaying Buddhist religious attributes.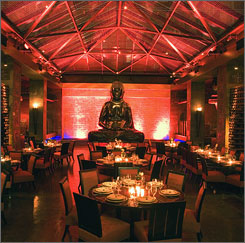 << A Buddha Bar restaurant in the USA. Indonesian Buddhists are up in arms over the franchise opening in its capital, Jakarta
Eko Nugroho, head of the Indonesian Buddhist Students Association, told tempointeraktif.com that the service was to honor Buddha who is represented by a Buddha statue inside the bar's building.
"Around 200 people will join the procession," he said.
Eko said the Buddists would gather first at Taman Cut Meutia Park at around 10:30 a.m. before walking in prayers towards the bar.
He said he expect the bar management to change the bar's name. "It is very inappropriate to use a religious symbol to name an entertainment place that sells liquor," he said.
Separately, head of Jakarta Tourism Agency, Arie Budiman, said the administration was asking Buddhists to be patient, as the bar management was still considering to change the bar's name.
The Buddha Bar building used to be the Old Immigration Office building, which was originally set up as a center for the arts and hosted opera performances. The bar is now run by the daughter of former Jakarta governor Sutiyoso who initially approved the purchase and renovations.
The Jakarta administration spent Rp 28 billion (US$2.3 million in today's currency) in 2002 to repurchase the old building and poured an additional Rp 6.1 billion into restoring it in 2005.